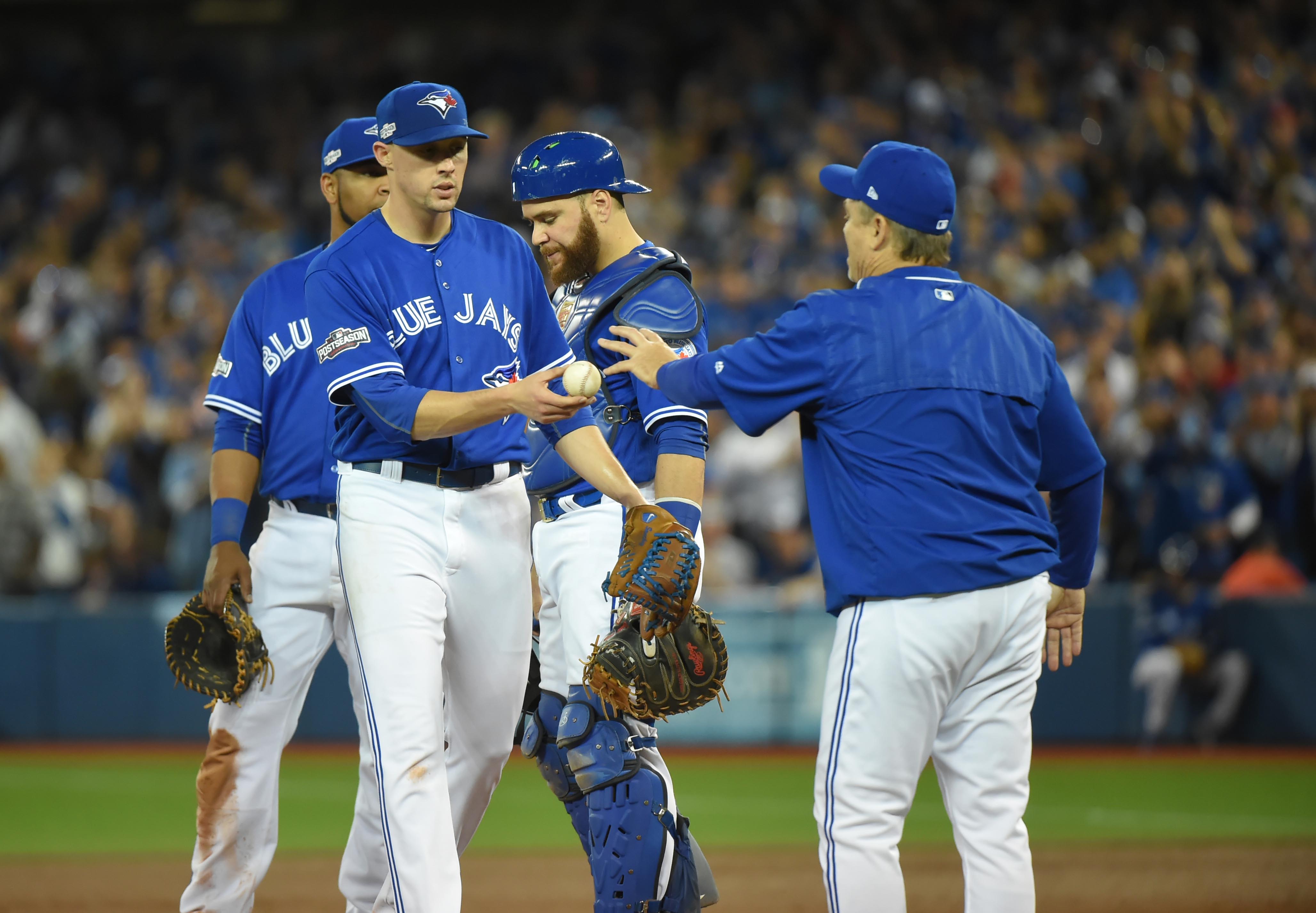 Steamer Projections prognosticated bloated earned run averages and a less than complimentary season for the Toronto Blue Jays starting rotation in 2017.
Steamer Projections is a projection based system for baseball statistics utilized by the likes of Fan Graphs among others. They recently released their 2017 forecast with some less than hopeful forecasts for the 2017 Toronto Blue Jays starting rotation. Take what you will with these as we all know at the end of the day they are just predictions. However, here are some of them for interest sake.
I have a sneaking suspicion you will not be impressed by the Sanchez/Happ and Estrada numbers that Steamer somehow dug up and predicted for 2017.
Pitching Staff:
Aaron Sanchez 12-11, 4.00 ERA, 1.35 WHIP, 3.0 WAR in 202 IP.
J.A. Happ 11-11, 4.17 ERA, 1.28 WHIP, 2.4 WAR in 184 IP.
Marco Estrada 9-10, 4.69 ERA, 1.30 WHIP, 1.5 WAR in 165 IP.
Marcus Stroman 11-9, 3.69 ERA, 1.25 WHIP, 3.2 WAR in 166 IP.
Francisco Liriano 9-8, 3.95 ERA, 1.33 WHIP, 2.0 WAR in 138 IP.
Mat Latos 5-6, …
Read Original Post at
http://jaysjournal.com/2017/02/17/blue-jays-rotation-gets-no-love-from-steamer-projections-in-2017/

Sports Media 101 searches and spiders for news it aggregates from across the web about your favorite sport or sports team. This article is originally posted at another site not affiliated with Sports Media 101. The portion of the article posted here is to provide a sample of the content available at the linked site. Please click the link to read the full article. Sports Media 101 does not claim any ownership to the content and all rights are retained by the original copyright owner.
Tags:
Aaron Loup
,
Aaron Sanchez
,
Blue Jays News
,
Bo Schultz
,
Danny Barnes
,
Devon Travis
,
Ezequiel Carrera
,
Francisco Liriano
,
Glenn Sparkman
,
J.A. Happ
,
J.P. Howell
,
Jason Grilli
,
Joe Biagini
,
Joe Smith
,
Jose Bautista
,
Josh Donaldson
,
Kendrys Morales
,
Kevin Pillar
,
Marco Estrada
,
Marcus Stroman
,
Mat Latos
,
Melvin Upton Jr.
,
Mike Bolsinger
,
Roberto Osuna
,
Russell Martin
,
Ryan Tepera
,
Steve Pearce
,
Troy Tulowitzki