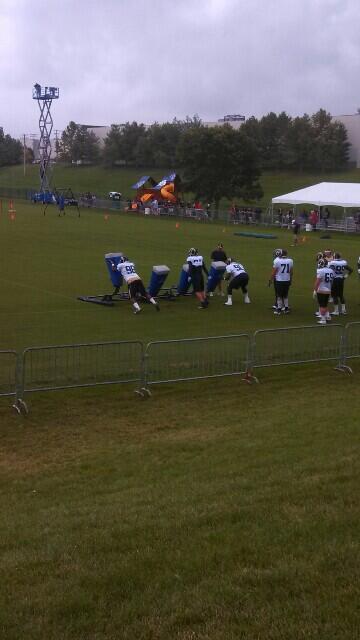 After a day off on Sunday, the St. Louis Rams were back on the (soggy) practice field Monday. Typical Missouri summer weather was in effect earlier in the day, with thundershowers threatening to move practice indoors. But, other than some sprinkles during the practice period (eliciting joyous hoots and hollers from the players), the Rams were able to get in a full practice outside.
The players seemed to relish the opportunity to work out on a less than ideal playing surface, and during individual drills some of the defensive backs enjoyed converting a padded tackling station into a mini slip and slide. Keeping things loose is certainly a trademark of Coach Fisher, and it appears that while the execution of the players is expected to be high, the coaches allow (maybe even encourage) the players to have fun doing their jobs.
Rookie LB Alec Ogletree got a bit fired up during individual drills, as he and LS Jake McQuaide squared off in a tackling drill resulting in an exchange of shoves. In the next go round, Ogletree put a nifty spin move on McQuaide, much to the appreciation of the nearby players. It is certainly good to see Ogletree assert himself more on the football field and earn the respect of his position group.
On the other side of the field, with wetter conditions the defensive line had to focus on proper hand placement on the sled in order to transfer power. Rookie DT Garrett Goebel in particular had a tough time with hand slippage, but eventually worked it out. DT Michael Brockers showcased his tremendous strength in this drill, smoothly pushing each dummy to its limit with no more than an extension of his arms.
With the footing somewhat treacherous, the defensive backs and linebackers had a bit harder time keeping up with the offensive skill players. This was especially true during one on one activities, with multiple receivers getting the best of their counterparts (especially on double moves).
That said, defensive backs Trumaine Johnson and Rodney McLeod were able to pick off passes during team activities, and a pass breakup by Janoris Jenkins on a deep ball to Chris Givens was impressive. As usual, rookie WR Tavon Austin was a headache for CB Cortland Finnegan, with his ability to "stop on a dime, and leave change," and WR Stedman Bailey made catches all over the field (including several touchdowns in 7 on 7 and team activities). Bailey continues his consistent play from the last few practices, and earns our Gold Star.
The hit of the day came when S Matt Daniels decided to say "hello" to RB Chase Reynolds on an outside run. Even though the players were in shells, the pop was heard throughout the practice area. Remember that Daniels was a Sleeper Horse in our preview of the safety position.
It was pleasing to see the skill players limit the number of dropped passes today, as not all football will be played in the comfort of a dome. On one occasion, WR Brian Quick was well covered but managed to free up an arm to tip the ball back to himself in the middle of being brought down by the defensive back. It's plays like these that keep the chains moving, especially in poor weather.
Gold Star
WR Stedman Bailey The story of Monday's camp appeared, by all accounts, to be the smooth route running and sticky hands of rookie WR Stedman Bailey. Bailey showcased why he is considered by many to be a steal from the 2013 NFL Draft. The 92nd pick is making a claim to be the second best WR taken in the draft (behind the Rams' own Tavon Austin). When the ball is in Bailey's vicinity, it's not likely to hit the ground.
Other Notes (via the @Rams_101 Twitter feed)
Quick hits from today's #ramscamp: 1) Stedman Bailey is a reliable, complete receiver 2) Brian Quick still learning to use his hands (cont.)

— Rams 101 (@Rams_101) August 13, 2013
More #ramscamp: 3) Ogletree looked feisty in drills 4) Lutzenkirchen gets it done as a blocker 5) Tru Johnson picks Bradford in 7's (cont)

— Rams 101 (@Rams_101) August 13, 2013
More #ramscamp: 6) Who can cover Tavon in the slot? 7) Daniels can lay the wood (just ask RB Reynolds) 8) Clemens & Davis alternate (cont)

— Rams 101 (@Rams_101) August 13, 2013
More #ramscamp: 9) Barrett Jones gets work at LG, Brandon Washington at RT for 2nd team 10) Johnny Hekker: emergency QB? (cont)

— Rams 101 (@Rams_101) August 13, 2013
More #ramscamp: 11) Finnegan works with CB McGee after practice 12) Barksdale continues to look solid with 1's at RT (cont)

— Rams 101 (@Rams_101) August 13, 2013
More #ramscamp: 13) "Hot Rod" Rodney McLeod showing his man-coverage skills 14) Zuerlein's leg continues to amaze spectators (cont)

— Rams 101 (@Rams_101) August 13, 2013
More #ramscamp: 15) Richardson hits the hole with authority and burst, 1 cut and go full bore 16) Cult hero Andrew Helmick returns

— Rams 101 (@Rams_101) August 13, 2013
#Rams COO Demoff and Missouri Governer Jay Nixon strode out to the practice field (with Nixon's entourage in tow) and watched until rain hit

— Rams 101 (@Rams_101) August 13, 2013
Echoing @nwagoner's notes, the #Rams appear to want their Olinemen to be as versatile as possible, especially LG Chris Williams

— Rams 101 (@Rams_101) August 13, 2013
With rookie Barrett Jones receiving reps at C, OG and RT, and Williams receiving reps at LG, RT and LT, the #Rams are prepared for injuries

— Rams 101 (@Rams_101) August 13, 2013
One more note from #ramscamp: CB Jenkins and WR Givens are constantly improving each other. They are cornerstones for the team's success

— Rams 101 (@Rams_101) August 13, 2013
Gearing up for the fantasy season? Try weekly fantasy football games this year at DraftDay.com. DraftDay has awarded over $15 million to fantasy fans like you, so don't miss out on the newest way to play fantasy football! Create your free account and use promo code GIFT for an instant cash bonus.