Seattle Seahawks' head coach Pete Carroll is offically a Hall of Famer, at least at the University of Southern California. USC announced on Monday that Carroll will be inducted into the school's Athletic Hall of Fame in 2015.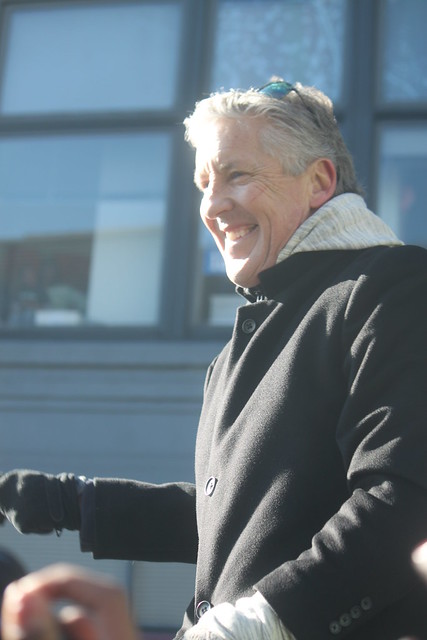 ? 2014 Jeff, Flickr | CC-BY | via Wylio
Carroll had a nine-year run (2001-09) as head coach at USC and saw the Trojans secure seven consecutive Pac-10 titles (2002-08), two national championships (2003-04), and a 97-19 overall record. USC earned a bowl bid in each of Carroll's nine seasons (winning seven), including an NCAA-record seven consecutive BCS bowls from 2002-08, a period when his squad recorded at least 11 wins seven times (an NCAA record).
Carroll carried on his success with the Seahawks in 2010, where he has teamed with general manager John Schneider to assemble one of the NFL's most-competitive and talented rosters. In his fourth season with the Seahawks, Carroll worked to bring home Seattle's first Super Bowl title with a 43-8 victory over the Denver Broncos in New Jersey this past season. He recently inked a three-year deal with the team to remain with the Seahawks.
Joining Carroll in USC's Athletic Hall of Fame class of 2015 will be Byron Black (tennis), Jack Del Rio (football/baseball), John Hamilton (contributor), Isabelle Harvey (soccer), Joe Jares (media), Jimmy Jones (football), Dave Levy (football coach), Harold Miner (basketball), Aniko Pelle (water polo), Mark Prior (baseball), Kristine Quance-Julian (swimming), Don Quarrie (track and field), Jennifer Rosales (golf), Tim Rossovich (football), and Bob Yoder (volleyball player/coach).
Tags:
Football
,
NFL
,
Seattle
,
Seattle Seahawks