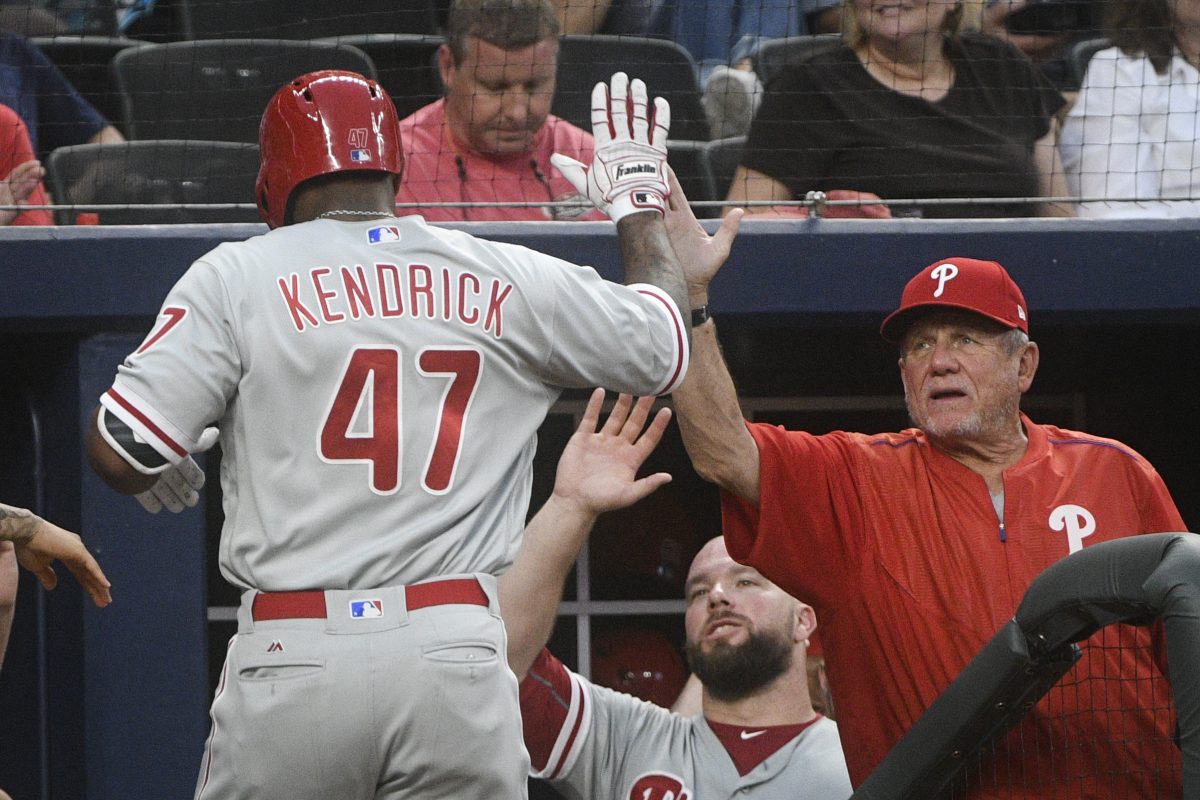 With the Phillies having the worst record in baseball at 22-46, one might expect some volcanic eruptions from fiery bench coach Larry Bowa. But amidst this frustrating season, he has exercised remarkable patience.
At 71, the five-time Phillies all-star shortstop isn't mellowing. He is as detailed as ever and his intensity never wanes, but Bowa understands the Phillies are undermanned. Still, that doesn't mean it has been easy to cope with the constant losing.
"It's been tough," he said in an interview over the weekend when he was asked about his take on the team.
What has pleased Bowa the most is that he doesn't see a defeatist attitude. The players are open to instruction and putting in the extra work.
"These guys are trying, they are giving every ounce of effort that they possibly can and sometimes that old cliché 'you are trying too hard' that could come into play here," he said. "I think every one of these guys is giving a tremendous effort."
Of course nothing makes up for talent, which is why Bowa and the entire coaching staff have no other choice but to exercise patience.
Bowa says he can relate to the players who are struggling. In his first full season, 1970, the Phillies were 73-88. Their records over the next three years were 67-95, 59-97 and 71-91.
In Bowa's first four seasons he never hit higher than .250 and bottomed out at .211 in 1973 before seeing his career take off.
"I couldn't buy a hit, I couldn't even spell hit," he said. "This game isn't real easy."
He also hears the cries for bringing up the young players and says the transition will be challenging regardless of minor league success.
"Whoever comes up here, with the exception of a [Mike] Trout, a [Bryce] Harper, a [Derek] Jeter, you are going to struggle," he said.
Actually, even Trout struggled, hitting .220 with a .672 OPS in 40 big league games in 2011. After that he …
Read Original Post at
http://www.philly.com/r?19=961&43=168491&44=429442673&32=3796&7=195327&40=http:%2F%2Fwww.philly.com%2Fphilly%2Fsports%2Fphillies%2Fphillies-larry-bowa-preaches-patience-20170619.html

Sports Media 101 searches and spiders for news it aggregates from across the web about your favorite sport or sports team. This article is originally posted at another site not affiliated with Sports Media 101. The portion of the article posted here is to provide a sample of the content available at the linked site. Please click the link to read the full article. Sports Media 101 does not claim any ownership to the content and all rights are retained by the original copyright owner.
Tags:
Marc Narducci