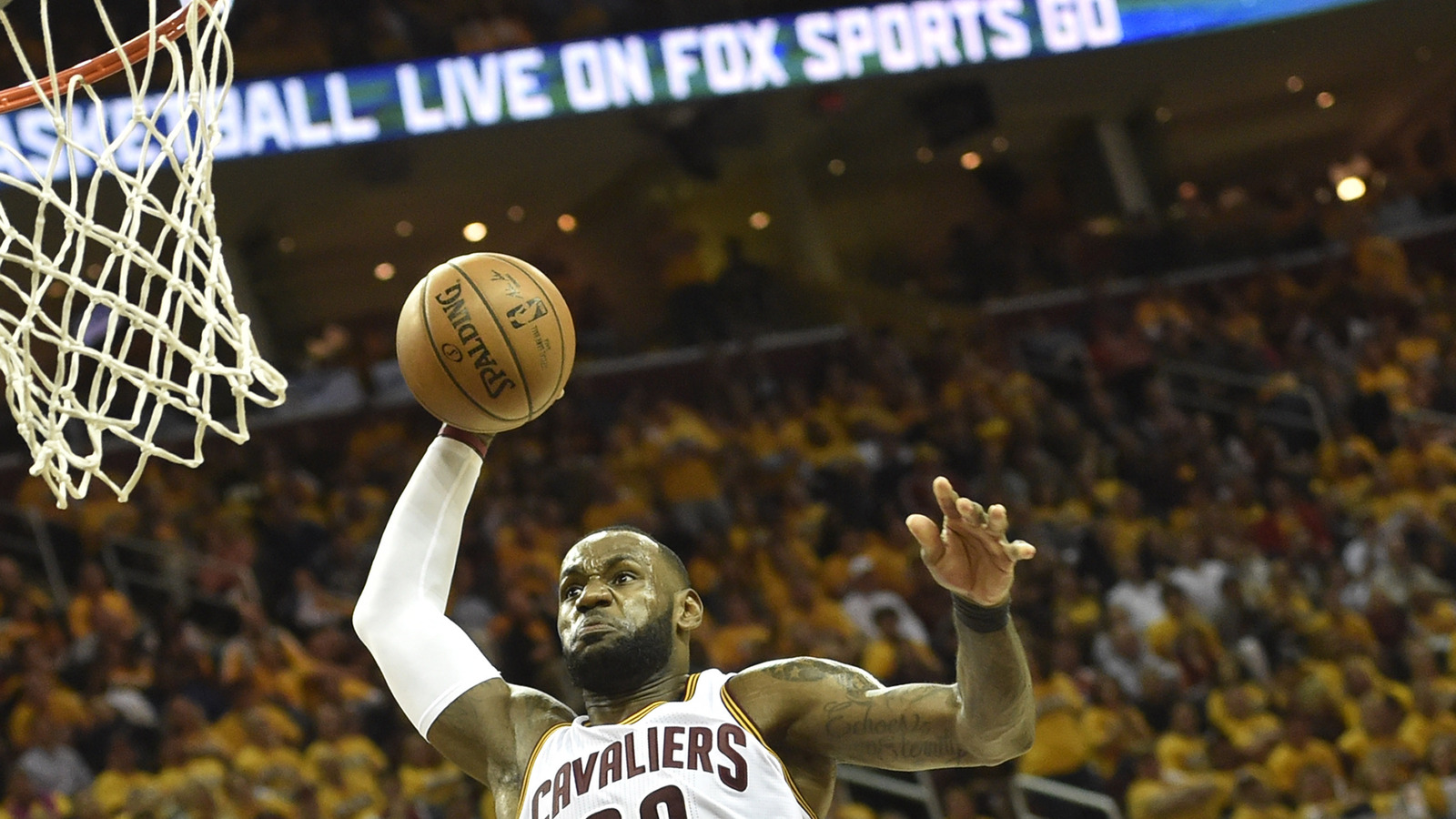 No one can ever question if James didn't live up to the hype bestowed upon him as a teenager. David Richard-USA TODAY Sports
On February 18, 2002, Sports Illustrated declared LeBron James "The Chosen One," making him just the ninth high school athlete ever to cover the magazine. Nearly three years later, LeBron would start in his first of 13 straight NBA All-Star games, alongside the likes of Grant Hill, Vince Carter and Allen Iverson. Josh Smith won the dunk contest that weekend over LeBron's current teammate J.R. Smith while Quentin Richardson out-dueled Kyle Korver for the three-point shootout crown. It might as well have been a lifetime ago, but it was the tip of the Sports Illustrated-crafted iceberg, and just the beginning of James' living up to the hype and the moniker he was so fond of he splattered it across his back in permanent ink.
Now, 15 years after SI's ballsy declaration, James has fulfilled the prophecy.
With his seventh consecutive NBA Finals on the horizon, maybe his greatest challenge yet ahead of him and his idol and the GOAT title within reach, with all he's proven thus far LeBron is still playing for his legacy. We should probably be satisfied with all that he's accomplished in his 14 years in the NBA. His accolades are common lore at this point: four MVP awards, three Finals MVPs, three championships, two gold medals and most recently, the record for most career playoff points amongst other trophies, records, impressive statistics and all sorts of noteworthy accomplishments.
For LeBron, none of that is enough, not for the most scrutinized athlete since Muhammad Ali, who committed a literal act of treason to earn that distinction. Not in the era of the 24-hour news cycle, screaming head debate shows, constant Twitter debates, memes and everything else that has brought heated barber shop debates and water cooler …
Read Original Post at
http://www.yardbarker.com/nba/articles/on_the_fulfilled_prophecy_of_lebron_james_and_the_writing_of_more_chapters/s1_11027_24065989

Sports Media 101 searches and spiders for news it aggregates from across the web about your favorite sport or sports team. This article is originally posted at another site not affiliated with Sports Media 101. The portion of the article posted here is to provide a sample of the content available at the linked site. Please click the link to read the full article. Sports Media 101 does not claim any ownership to the content and all rights are retained by the original copyright owner.
Tags:
Cleveland Cavaliers
,
J.R. Smith
,
Kyle Korver
,
LeBron James
,
Memphis Grizzlies
,
NBA
,
Orlando Magic
,
Quentin Richardson
,
Vince Carter