Big mailbag this week. Sixteen questions and 15 answers. RABmailbag (at) gmail (dot) com is the email address for all mailbag related correspondence.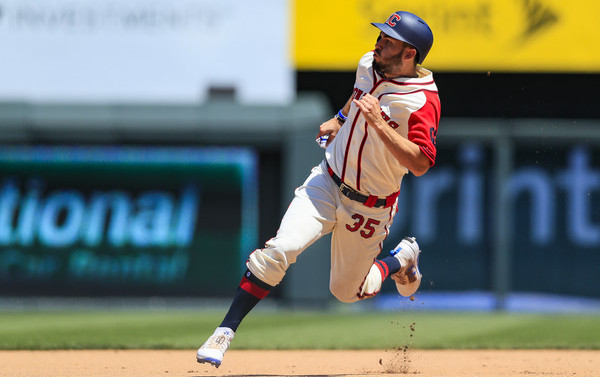 Hosmer. (Brian Davidson/Getty)
Joe asks: What would an Eric Hosmer deadline trade look like? Do you think it's a potential fit?
The Royals are pretty terrible and Hosmer is one of their many impending free agents, along with fellow core players Mike Moustakas and Lorenzo Cain. Hosmer, 27, went into last night's game hitting .295/.358/.409 (110 wRC+) with three home runs, and he's really turned things round after a terrible start. He was hitting .225/.281/.292 (55 wRC+) on the morning of May 1st.
Hosmer has developed a reputation for being better than he actually is. I guess being a former top prospect and cleanup hitter for a World Series champion will do that. The fact of the matter is Hosmer hit .266/.328/.433 (101 wRC+) last season, and is a career .278/.336/.427 (107 wRC+) hitter in nearly 4,000 MLB plate appearances. That's not awful, but it is below average for a first baseman.
As far as the Yankees are concerned, the question is whether Hosmer would be better than their in-house first base options, specifically Greg Bird and Chris Carter. I guess it depends on Bird's health, really. I'd much rather stick with Bird than give up prospects for Hosmer. But, if Bird's ankle issue lingers and the Royals decide to sell, maybe checking in on Hosmer wouldn't be a terrible idea?
The thing is, I'm not willing to give up a whole lot for Hosmer. I do think he's a better defender than the stats indicate, but he is a below average hitting first baseman, and that's not all that valuable. If the Yankees could build a package around their second tier prospects, guys like Miguel Andujar and Domingo Acevedo, then sure, it might be worthwhile. I can't imagine parting with Tyler Wade or Dustin Fowler for Hosmer though, nevermind Gleyber Torres or Clint Frazier.
Jason asks: Could you imagine a scenario in which the Yankees ownership gets antsy and decides to buy big in either July or this offseason and target Freddie Freeman? What would a package for him look like?
This question was sent in before Freeman took a pitch to the wrist the other day. He'll be out ten weeks with a fracture. Hypothetically though, I don't think trading for Freeman would be an "ownership gets antsy" move. I think everyone would be on board with that, including Brian Cashman and the rest of the front office. There are not many players I would give up Torres to acquire, but Freeman is one of them.
The facts: Freeman is only 27, he is signed affordably through 2021, and he's hit .309/.411/.602 (162 wRC+) with 48 homers in 858 plate appearances since the start of last season despite playing nearly all of his home games in a pitcher's ballpark. He is one of the best and most valuable players in baseball. There's basically no chance the Braves are open to trading him â?? Freeman is their franchise player, the guy they're building around â?? but if they decide to put him on the market, the Yankees should go all out to get him. He's an MVP caliber producer.
Would the Braves be wrong to ask for Torres, Frazier, Bird, and Luis Severino? I don't think so. I don't think that's enough, to be honest. Torres and Frazier are great looking prospects, but they're still prospects. Bird hasn't been healthy for a while now. Severino? Well, you have to give something to get something. Add Freeman to Gary Sanchez and Aaron Judge, and the Yankees are set with a monster middle of the lineup. Like I said though, the Braves aren't trading him.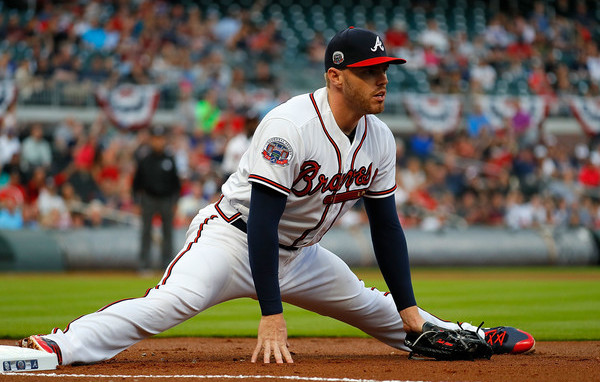 Freeman. (Kevin C. Cox/Getty)
Michael asks: Mike. Am I being irrational in wanting them to trade Fowler but not Frazier (or Torres for that matter) for a SP..?? As a CF Fowler may project as better in the long term, yet I'm fascinated by what Frazier is likely to become and want to keep him no matter.
Not at all. Fowler is getting more hype right now because he's having an insane start to the season in Triple-A, but Frazier remains the better prospect with the higher long-term ceiling. I'm not opposed to trading either! I just wouldn't give them away for a quick fix rental, you know? Trading Frazier or Fowler as part of a package to get a young pitcher with ceiling and long-term control is perfectly cool with me. If I had to pick, I would trade Fowler before Frazier despite their early season numbers. Frazier's upside is too great to ignore.
Pete asks: I just read your post about the OF production and the 160 OPS+. What was the best Yankees OF of the past 25 years based on overall OPS+?
Going into last night's game Yankees outfielders were hitting .303/.407/.572 (157 OPS+) with 31 home runs in 520 plate appearances this season, so they have slipped a tiny little bit since that 160 OPS+ post. That was bound to happen. Even then, the Yankees still have far and away the most productive outfield in baseball. The Nationals are a distant second with a 148 OPS+.
Most of the best outfields in Yankees history are from way back in the day. The Babe Ruth, Joe DiMaggio, Mickey Mantle teams. The most productive outfield in franchise history is the 1940 team (140 OPS+), which was led by DiMaggio. Next best is the 1961 team (135 OPS+), the year Mantle and Roger Maris raced to the single season home run record. Here are the best Yankees outfields over the last quarter-century:
1994: .317/.407/.497 (128 OPS+)
2011: .260/.360/.459 (119 OPS+)
1998: .299/.380/.482 (118 OPS+)
1997: .302/.380/.473 (117 OPS+)
1996: .291/.379/.482 (114 OPS+)
The peak Bernie Williams/Paul O'Neill teams dominate the list, unsurprisingly. The Yankees had some great outfields from 2009-12, though they …
Read Original Post at
http://riveraveblues.com/2017/05/mailbag-hosmer-freeman-outfield-defense-estrada-netting-154054/

Sports Media 101 searches and spiders for news it aggregates from across the web about your favorite sport or sports team. This article is originally posted at another site not affiliated with Sports Media 101. The portion of the article posted here is to provide a sample of the content available at the linked site. Please click the link to read the full article. Sports Media 101 does not claim any ownership to the content and all rights are retained by the original copyright owner.
Tags:
Mailbag