I've got 13 questions in the mailbag this week, the first of Spring Training. Just think, when next week's mailbag is posted, we'll be only a few hours away from the Yankees playing their first Grapefruit League game. Good times. Anyway, RABmailbag (at) gmail (dot) com is the mailbag email address.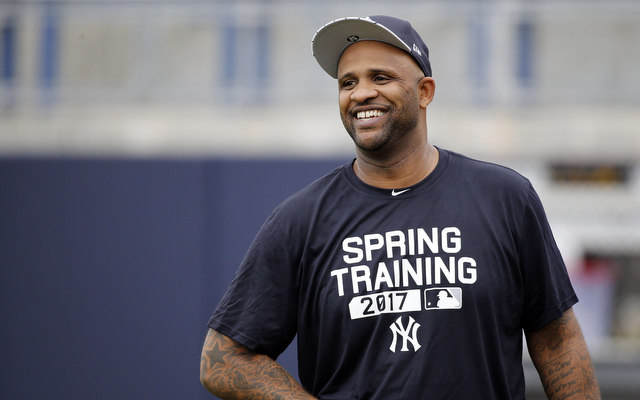 Sabathia. (Presswire)
Christian asks (short version): Girardi named Tanaka as the starting pitcher on Opening Day, which is an honor. The home opener is Game No. 7 this year. Do the Yankees consider that when lining up their rotation?
I'm not sure, honestly. The home opener is the seventh game of the season this year, though the Yankees have two off-days in the first week. They could, conceivably, line up their rotation in such a way that Masahiro Tanaka starts both Opening Day and the home opener. The off-days give them a lot of flexibility early on. I'm not sure how much of a consideration this is, however.
Here are the Opening Day and home opener starters during each year of the Joe Girardi era (an asterisk indicates the Yankees opened at home that year):
| | Opening Day | Home Opener |
| --- | --- | --- |
| 2008 | Chien-Ming Wang | Chien-Ming Wang* |
| 2009 | CC Sabathia | CC Sabathia |
| 2010 | CC Sabathia | Andy Pettitte |
| 2011 | CC Sabathia | CC Sabathia* |
| 2012 | CC Sabathia | Hiroki Kuroda |
| 2013 | CC Sabathia | CC Sabathia* |
| 2014 | CC Sabathia | Hiroki Kuroda |
| 2015 | Masahiro Tanaka | Masahiro Tanaka* |
| 2016 | Masahiro Tanaka | Masahiro Tanaka* |
In 2010, 2012, and 2014, the Yankees did not do anything fancy with their rotation. They opened on the road those years and used five starters right out of the gate, so the home opener start went to whoever happened to line up that day. In 2009, the Yankees opened the season with a nine-game road trip. They use an off-day to skip their fifth starter the first time around, then stayed on turn. That allowed Sabathia to start Opening Day and the home opener, which was the tenth game of the season.
These days the Yankees are pretty obsessive about giving their starters extra rest whenever possible, so while those two off-days in the first week give them a chance to do something creative, I think they'll stay on turn and use all five starters right away. That means Tanaka on Opening Day and the No. 2 starter for the home opener. I'd put money on Sabathia being that guy, not Michael Pineda.
Matt asks: When it's all said and done, does Cashman get a plaque in Monument Park?
That's an interesting question. Brian Cashman was the general manager for the most recent Yankees dynasty, plus he built another championship team in 2009. Hopefully this rebuild leads to a few more titles as well. Right now there are 37 honorees in Monument Park, 28 of them players. The other nine include one broadcaster (Mel Allen), one general manager (Ed Barrow), one public address announcer (Bob Sheppard), two owners (Jacob Ruppert, George Steinbrenner), and four managers (Miller Huggins, Joe McCarthy, Casey Stengel, Joe Torre).
If Cashman retired today, I'd say he belongs in Monument Park. And you know what? I think he'll get a plaque eventually as well. Maybe not right away, especially if he leaves to join another team, but down the line. Remember, Cashman has been with the Yankees since the 1980s. He was based in Tampa and worked in player development when the Yankees drafted and developed guys like Pettitte, Bernie Williams, Derek Jeter, Mariano Rivera, and Jorge Posada. That should count for something.
Dan asks: Seeing as how Didi almost definitely won't start at SS for the Netherlands, what defensive position would it be better for the Yanks if he played (and learned)? I think third base. The yanks have a ton of MI depth, but could really benefit if Didi shows he can be an option there at all.
Probably third base. Didi Gregorius has a little second base experience in both the minors (349.1 innings) and majors (79.2 innings), and basically none at third (ten innings total). That said, we're only talking about a handful of World Baseball Classic games here. The Netherlands should be able to make it out of the first round â?? they're in a pool with South Korea, Chinese Taipei, and Israel â?? but getting out of the second round is a tall order. They'll play maybe six or seven games total. That's not enough time to learn a new position, is it? I don't think so. Gregorius is a very good defender at short and he should remain there. I have a hard time envisioning a scenario in which it makes sense for the Yankees to move him around.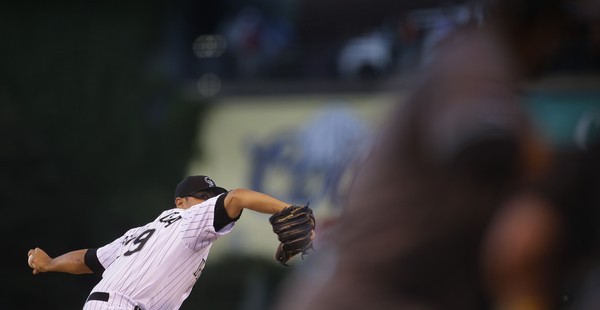 De La Rosa. (Joe Mahoney/Getty)
Joseph asks: I was looking for your take on Jorge de la Rosa. I feel he would be a good fit for the multi-inning swingman out of the bullpen role. The Yankees will be needing some innings out of their bullpen with the likes of Pineda, the #4 starter and the #5 starter. de la Rosa pitched well in relief, albeit in a limited 8 innings last year, so could be worth a flyer. Helps that he is a lefty as well, not having too much depth in that department.
I wouldn't mind him. The Yankees have been connected to De La Rosa a few times over the years, both when he was a free agent and on the trade block. He …
Read Original Post at
http://riveraveblues.com/2017/02/mailbag-home-opener-didi-sanchez-carter-mateo-reeves-149853/

Sports Media 101 searches and spiders for news it aggregates from across the web about your favorite sport or sports team. This article is originally posted at another site not affiliated with Sports Media 101. The portion of the article posted here is to provide a sample of the content available at the linked site. Please click the link to read the full article. Sports Media 101 does not claim any ownership to the content and all rights are retained by the original copyright owner.
Tags:
Mailbag