Will Hill's off-field troubles continued this week, as Ralph Vacchiano of the New York Daily News reports that the New York Giants safety was arrested on Friday night on a child support warrant.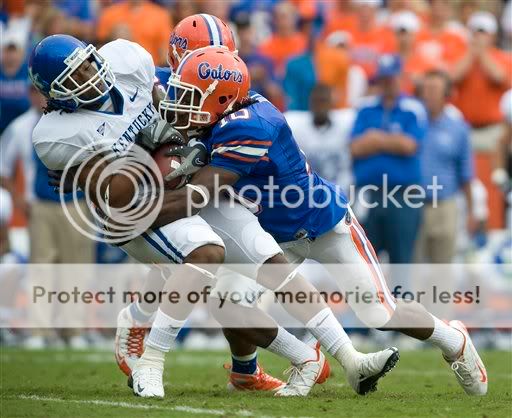 In a statement by the team, the Giants distanced themselves from the issue, saying it's a "private, personal matter he's dealing with."
Additional details on the arrest have not been made available, but Hill had previously told The Star-Ledger that he has four children — two with his ex-wife and two with another woman. In fact, prior to the birth of his fourth child, Hill cited his three other children as the reason he gave up collegiate eligibility at Florida and declared early for the NFL Draft.
"It took a while to come to that conclusion, but the thing that made me come out and try to go pro is I have a family," Hill said in 2011. "It's a priority of mine to help my family. I have little ones to look after. I feel like this was best decision for me and them."
Despite declaring early, Hill's draft value took a major hit due to character issues that plagued him in college. His wild posts and pictures are Twitter are well known, and the incident subsequently led to Hill going undrafted.
In 2012, the Giants gave Hill an opportunity after an impressive workout, but made it abundantly clear that he needed to get his life in order.
Since then, Hill has faced dual four-game suspensions — one for violating NFL's performance-enhancing substance policy, which he claimed was Adderall, and one for violating the NFL's substance-abuse policy, which he admitted was due to a failed marijuana test.
Hill has also been arrested for driving on a suspended license (2011) and alleged domestic violent on his now ex-wife (2012), although charges were never ultimately filed.
Despite the arrest, Hill did travel with the team to Detroit and is expected to play on Sunday.
Photo credit: The Brit_2 / Foter / CC BY-NC-ND
Also…
You're not an average fan, so why wear an average shirt to represent your team? LogoWear brings some originality to the game and will help you be the star of your team's following - not the third guy in off the bench. Your team isn't just another team. Don't be caught wearing just another shirt. Make a statement with LogoWear!
Tags:
Football
,
New York
,
New York Giants
,
NFL
,
Will Hill