New York Giants safety Will Hill has always shown glimpses of potential when he has seen the field. Unfortunately, he hasn't always been able to stay on the field to flaunt his talent. He's had his share of ups and downs, but seems to have now regained his footing.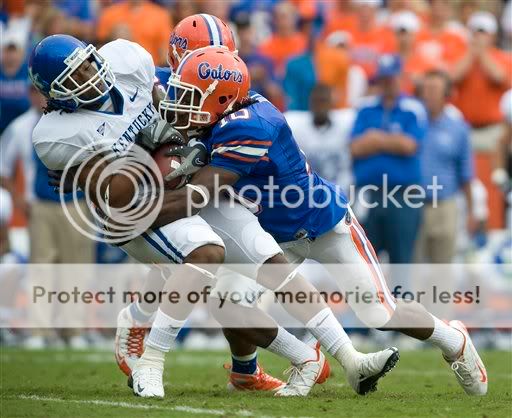 At the University of Florida, Hill was able to help the Gators win the BCS National Championship in 2008, the same year he was anointed to the 2008 SEC Football All- Freshman Team. He then took aim at the NFL draft in 2011 after his junior season, but went undrafted. Safeties coach Dave Merritt recollects meeting with Hill prior to the draft and shared some interesting notes on the development of the young safety.
"I remember him coming out of college, he sat in my office before the draft, and I remember seeing this kid thinking that the world is his and everyone else needed to bow down at his feet," Merritt recalled to Giants.com. "When he went through the process of not being drafted, not being invited even to a free agent camp, it humbled him into, really, an ant."
Hill, who has been suspended twice now by the NFL, once for use of Adderall and the second time for violating the NFL Policy and Program for Substance Abuse, admitted the latter was due to a failed drug test. Fortunately for the Giants, Will Hill realized the opportunity he had and was more than willing to make the necessary adjustments to revive his career.
"He really went down to the floor, and to be able to come back like when he came back on our workout that we had for him, he came out with a clean shave and a clean cut," Merritt said. "I didn't know who the kid was, to be honest with you, when I saw him that first day. So really for Will to be able to come back and do the things that he's done thus far – there's still a long way to go – my hat's off to him."
Such desire to excel manifested itself onto the field in Week 5 against the Philadelphia Eagles as Hill led the team with 11 solo tackles in his return from the four game suspension. On the season, Hill now has 25 tackles in four games; all of them solo, not to mention the game sealing interception last week in Philadelphia. When noting Hill's on field production, Merritt had plenty of praise for the Florida product.
"When Will goes to tackle you – and he doesn't miss many tackles. To be honest, I can't really recall when the last time was I saw him miss a tackle, Will brings a tenacity about him that's like no other," Merritt explained. "When he hits you, he actually has knockback tackles. He has leverage ability. He understands power angles, and hats off to the kid and his training and what he's learned over the years. I'm just trying to make sure I don't mess it up."
Merritt later added that due to Hill's ability to cover slot receivers and his overall aggressiveness, he has the potential to be a Pro Bowler someday. Until then he is taking it one day at a time as Merritt noted that on a ten-point scale, Hill is on a "six" right now in terms of his development as an NFL safety. If the coaches seem pleased by Hill's play and maturation, fans should be even more excited to watch Hill maximize his potential and become a key figure in the Giants secondary for years to come.
Photo credit: The Brit_2 / Foter / CC BY-NC-ND
Also…
You're not an average fan, so why wear an average shirt to represent your team? LogoWear brings some originality to the game and will help you be the star of your team's following - not the third guy in off the bench. Your team isn't just another team. Don't be caught wearing just another shirt. Make a statement with LogoWear!
You need to satisfy your competitive drive, so why not beat our experts in fantasy football. At FightClub, our official Fantasy Football partner, you can change you team weekly and win cash. Get a free $5 credit when you sign up and try them out. And each week, Sports Media 101 will sweeten the pot and award the player with top points an extra $25. Match-up and show them how good you are. Can you handle FightClub?
Your man cave is your home field advantage for every game. When the game is on the line, you should be able to look around and be reminded of the great moments you've watched unfold in that very room! MJR Sports Integrity offers a wide range or team and player-specific memorabilia that can do just that and take your game day room to the next level. Find your inspiration at MJR Sports Integrity and will your team to victory!
Dave Merritt
,
Florida
,
Football
,
New York
,
New York Giants
,
NFL
,
Philadelphia
,
Philadelphia Eagles
,
Will Hill
Related posts