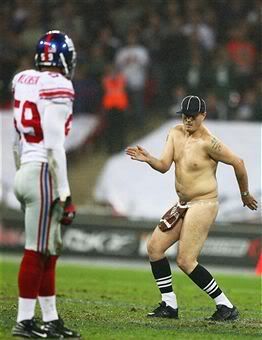 After 20 years and nearly 520 major events, notorious international streaker Mark Roberts has announced his "retirement" from the world of entertainment. And while most people usually find themselves "hanging it up" after retirement, Roberts will be "putting it on" – his pants, anyway.
"There's no major venue or event I haven't done," Roberts said. "But I'm nearly 49 now and my children have begged me to stop. It's time. I'm not ready for my slippers just yet, but gravity's against me."
New York Giants fans may remember Roberts from the 2007 London game between Big Blue and the Miami Dolphins, when the British-born man ran onto the field wearing little more than a mock referees hat and a small football-like pouch over his midsection. However, his appearance was short-lived on American television, as FOX immediately turned to a shot of Tony Siragusa, but the crowd in attendance serenaded him with the loudest cheers of the game.
While on the field, Roberts stripped down to nothing in front of linebacker Gerris Wilkinson and running back Ahmad Bradshaw, and began doing push-ups before he was tackled, removed from the field and arrested.
In total, Roberts spent time in over 30 different holding cells since 1993, and has paid more than $6,000 in fines.
His retirement comes as a result of his pleading children, who could no longer handle the torment from their classmates over their Father's bizarre actions.
Also…
Tags:
Ahmad Bradshaw
,
Football
,
Gerris Wilkinson
,
Mark Roberts
,
Miami
,
Miami Dolphins
,
New York
,
New York Giants
,
NFL