The New York Giants continued their cap cutting on Wednesday, releasing both running back Ahmad Bradshaw and defensive tackle Chris Canty. But in the case of Bradshaw, a door was left open for a potential return, says the two-time Super Bowl champion.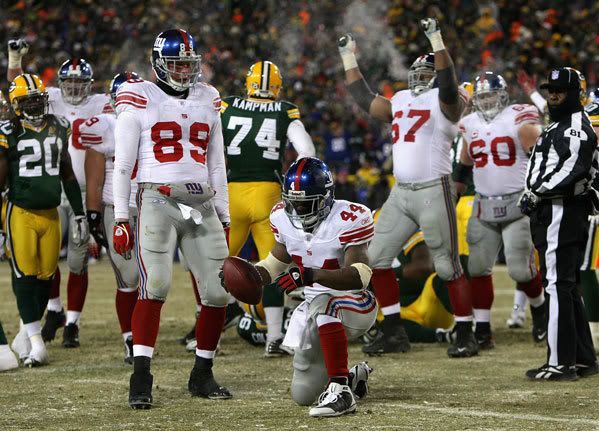 "They even also mentioned future possibilities. … [It] was mentioned," Bradshaw said of a possible return while appearing on WFAN. "There's always a door open on my side."
In the event that a return does not happen, Bradshaw thanked the Giants organization and their fans for years of support. But, at the same time, he's already looking ahead, preparing himself mentally to play for a new team.
"I saw it coming because of the money. Everything is about money I guess, so yes I was expecting it. I'm not discouraged at all. I'm just looking towards getting healthy and working with somebody else," Bradshaw said during an ESPN Radio interview. "That is all I can do. The Giants fans will always be remembered and always be loved. This is where I started and I just want to thank everybody for their support. Hopefully I'll be back soon."
Bradshaw added that, following another surgery on his right foot to replace the screws, he'll be healthy and ready to go by the time NFL training camps begin. Whether or not he's with the Giants at that time remains to be seen, but don't be so quick to dismiss a return. The Giants may reach out to him should he remain available later on in free agency, and attempt to workout a lower deal as they did a year ago with Brandon Jacobs.
As it stands now, both Ryan Torain and Kregg Lumpkin will be unrestricted free agents (UFA) come March, Andre Brown will be a restricted free agent (RFA), while only David Wilson and Da'Rel Scott remain under contract. Although, the team is expected to keep Brown with a possible tender.
Also…
Tags:
Ahmad Bradshaw
,
Chris Canty
,
Football
,
New York
,
New York Giants
,
NFL