As John Harbaugh's Baltimore Ravens prepare to take on Jim Harbaugh's San Francisco 49ers in Super Bowl XLVII, New York Giants quarterback Eli Manning can't help but ponder how incredible it would be to play his brother, Peyton Manning, in a Super Bowl. He's faced him a number of times in the regular season -and never won- but would love the opportunity on a grander stage.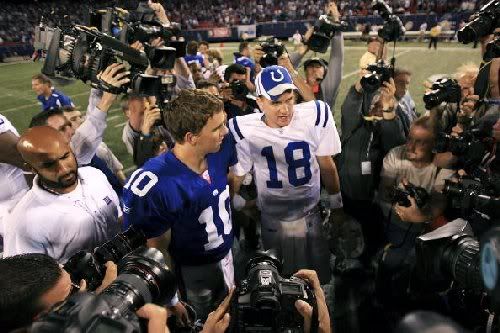 "It would obviously be very special," Eli Manning said on Friday, while promoting Gatorade and the sports drink company's new Fuel Bar. "And the fact that if you have a year where the Giants and the Broncos were the two best teams of that year would be neat, and I think it would be special if it happened."
The only thing that would make that dream matchup more intense would be to play it at MetLife Stadium during Super Bowl XLVIII, Manning says.
"I think each year it's about playing in the Super Bowl, it's not more important because of the location," Manning said. "Obviously next year it's going to be in New York. You're going to love to play in it, it will be very special, but I guess it's bigger than the location."
It's certainly a long-shot, but not an impossibility. Despite the Denver Broncos' untimely exit from the playoffs this year, and the Giants missing them all together, both teams are built to win now and should be competitive again next season. And while a large number of chips would have to fall perfectly into place, the possibility is realistic enough to enjoy some speculation and back-and-forth.
As exciting as the game would be, Eli says he'd feel bad for his parents. It would be a rough experience for them watching the two battle it out, and even tougher after Peyton goes down.
"I think with my parents it would probably be the hardest. I think they would be the proudest parents for those two weeks leading up to the Super Bowl, but that Sunday during the game, watching the game, would be tough on them. And afterwards it would be tough to be so happy for one of their kids for winning a championship and feeling bad about the other one who just lost," Manning said, adding with a smile "I wouldn't want them to feel that bad about Peyton in that situation."
The Broncos and Giants are, at the very least, slated to play each other next season. Perhaps it will be a preview of a much larger, and much more important spectacle to take place in early February from East Rutherford, New Jersey.
Also…
Tags:
Eli Manning
,
Football
,
MetLife Stadium
,
New York
,
New York Giants
,
NFL
,
Peyton Manning