To say that Ramses Barden's four-year NFL career has been a disappointment thus far would be a bit of an understatement. The 6'6'' wide receiver out of Cal Poly joined the New York Giants in 2009 as a third-round pick and many dubbed him "the next Plaxico Burress" – a huge and dangerous redzone target. Those expectations have never been lived up to.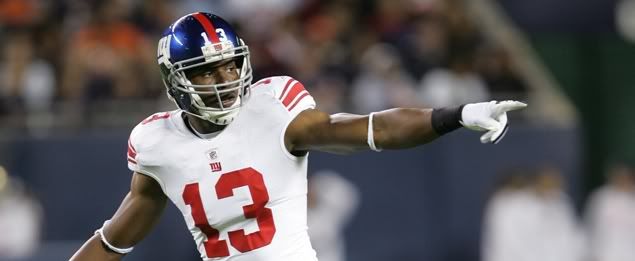 In 29 games, Barden has hauled in only 29 receptions for 394 yards and has a grand total of zero touchdowns. His best game, which accounted for most of those numbers, came in week three against the Carolina Panthers when injuries forced him into the start role. In a 36-7 victory, Barden caught nine passes for 138 yards. It was the first and only glimpse Giants fans ever got of his potential … but then he vanished back to the bench.
Soon to be an unrestricted free agent, Barden's time in New York is likely up. With Hakeem Nicks, Victor Cruz (RFA), Rueben Randle and Jerrel Jernigan all likely to be back next season, and Domenik Hixon also likely to receive a new contract, there's little room left for Barden. Unless, of course, General Manager Jerry Reese and head coach Tom Coughlin feel he's still the right man for the #5 or #6 spot.
That reality hasn't changed Barden's mind about wanting to return, however. In a recent interview with Vibe magazine, he said he would love nothing more than the re-sign with the Giants and return in 2013.
"I would love to resign with the Giants. I've made [New York City] a home, made friends here and media connections for my life after football," Barden said. "I know it's a business, so at the end of the day, a business decision will be made. My agent and I just have to sit down with the Giants' management and hopefully both parties can find a way to keep me around. Free agency doesn't open until March so I'll have a better idea of where I'll be playing then."
Some will say Barden never got his fair shake in New York, so perhaps a change of scenery is in order for the youngster. Others will tell you he just wasn't good enough. Only time will tell what the Giants think, and if they let him walk, it's only a matter of time before we see if the last four years were his norm or if the coaching staff got it wrong.
Also…
Tags:
Domenik Hixon
,
Football
,
Hakeem Nicks
,
Jerrel Jernigan
,
Jerry Reese
,
New York
,
New York Giants
,
NFL
,
Plaxico Burress
,
Ramses Barden
,
Rueben Randle
,
Tom Coughlin
,
Victor Cruz