New York Giants head coach Tom Coughlin has seen his share of second-half meltdowns, but none of them come with as few answers as this one. After starting the season 6-2, the Giants have gone 2-5 and are on the brink of playoff elimination. And after being routed for the second consecutive week, the coach still has no answers … although he is taking full responsibility for the overall futility.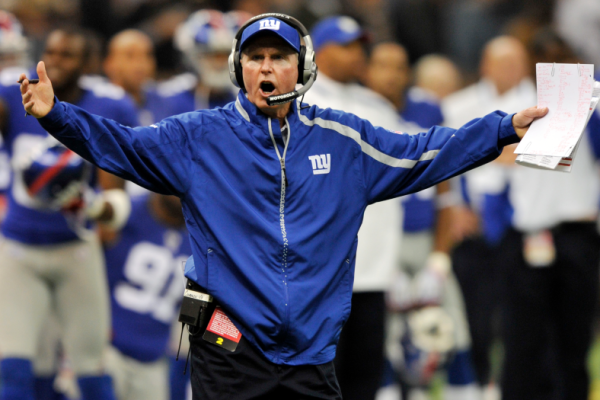 "I take full responsibility for this team. I am the head coach. What's happened over the past few weeks is hard to explain," Coughlin said. "It's a very difficult time for all of us. What has happened over the course of the last couple of weeks is very difficult to explain. We had a resounding win against New Orleans and felt real good about ourselves. And then I have no explanation as to why we're in the position that we're in."
If you ask retired linebacker Antonio Pierce, he'll tell you the team is "mentally drained." However, after another debacle in a must-win game, it might be something more than that. It seems like blasphemy to suggest a Coughlin-coached team has quit, but it certainly seems like they've given up. And with no other answers to be found, it appears to be a legitimate reason as any.
Whatever the case may be, the coach has empathy for his players. And as much as he'd like to figure out why things have gone so far South, he's coming up as empty as the team has appeared on the field.
"I feel badly for everybody in that locker room because I'm sure that none of them, they can't figure this thing out either. we don't look like a well-oiled machine offensively at all. We're just a very long way from being the team that played New Orleans," Coughlin said. "It's difficult. Very, very difficult. There are a lot of proud guys in that locker room that are looking to me for answers. The answers are not easy ones."
Still clinging to playoff hopes, the Giants will have one final opportunity to end this season on a high note. They face a Philadelphia Eagles team, led by the soon-to-be unemployed Andy Reid, who are equally as desperate for answers. Accordingly, they will need to practice hard this week, prepare themselves and find whatever answers they possibly can.
And they had better, because the New York crowd will not treat them well if they come out and lay another egg going away in week 17.
Also…
Tags:
Andy Reid
,
Antonio Pierce
,
Football
,
New York
,
New York Giants
,
NFL
,
Philadelphia
,
Philadelphia Eagles
,
Tom Coughlin