It has become no secret within the New York Giants organization that Mark Herzlich is the future at middle linebacker. The team would like for him to get some experience this season, but the stellar play of Chase Blackburn has made it difficult for Herzlich to find the field on defense. However, Blackburn suffered a hamstring injury last week which will keep him from playing Sunday, giving Herzlich a chance to prove he's worthy of being the team's next starting middle linebacker.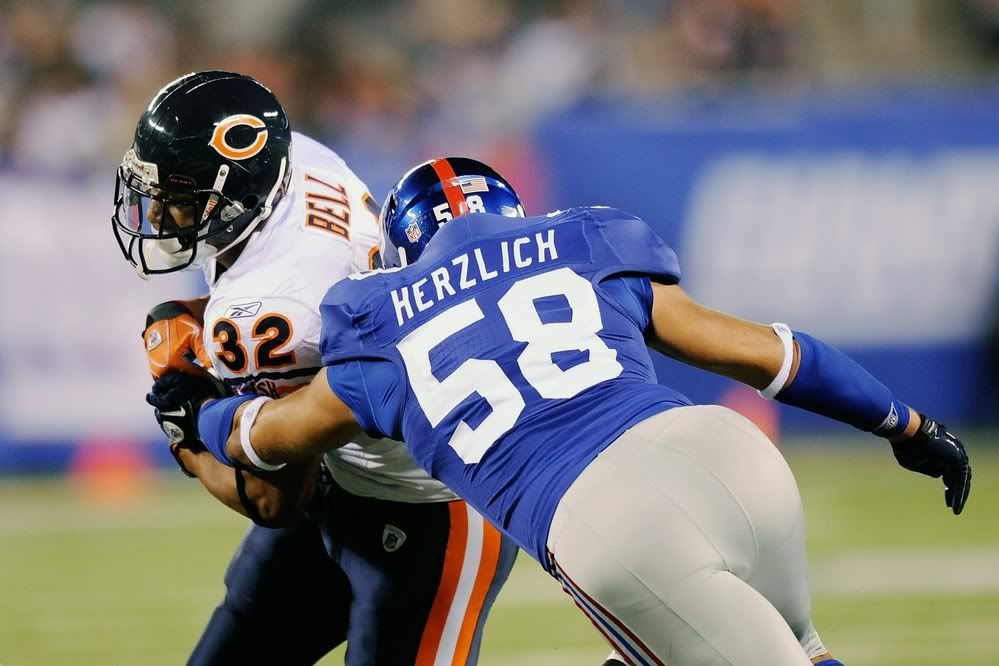 "It's a big opportunity for me," Herzlich said. "It's an important opportunity and it's fun. You get the opportunity to go out there and play against an opponent like the Steelers and it's fun. You have to make the most of every snap."
By now everyone should know of Mark's brave battle with Ewing's Sarcoma that could have cost him his football career. But he battled and managed to beat the cancer, keeping his dream of playing in the NFL alive. He would go undrafted but the Giants signed him as a free agent. During his time on the Giants he has proved he still has what it takes physically to compete at the NFL level, and now finds himself with a great opportunity to earn a starting role.
Herzlich has been watching Blackburn and has learned a lot from the veteran who knows the Giants system extremely well. He knows that even if he puts on a great performance Sunday, Chase would likely get his starting job back once he recovers from his injury, but it is still a great opportunity to gain valuable experience for the future.
"Chase pushes me. It's good," Herzlich said. "I like that because we play off each other, we feed off each other, and I've learned so much from him that you could never learn from a coach … hopefully (I can) go out there and kind of fill his shoes well … whenever he comes back he'll probably get the spot again but (I've) got to do what I can well while I'm in there."
It appeared that last season Herzlich would have a chance to solidify himself as the starter but he suffered a high ankle sprain after starting only two games that cost him the rest of the season. Ironically, his injury resulted in the team's decision to sign Blackburn back to the team. Blackburn had always been a fan favorite, and he proved he could still be a force, making several big plays including a late interception in the Super Bowl that helped the Giants come out victorious.
Special teams is the only area Mark has had a chance to make an impact this season. He's been looking forward to his opportunity to net significant playing time on defense, and can't wait for Sunday's game.
"To come back and get an opportunity to go back on the field, I know it's going to happen at some point, just happens to be the week it's coming," Herzlich said. "It's just about making plays and having fun. That's what football comes down to since you're eight years old. You make plays, you have fun, you get a win and that makes it all the much better."
Fans will get a good glimpse of what they can look forward to from the defense in the future with Herzlich at the helm. Herzlich will be tested by a Steelers' attack which is known for being very physical.
Also…
*Note: Help with the Hurricane Sandy relief effort. Text REDCROSS to 90999 to donate $10 to go towards the Red Cross Disaster Relief.
Tags:
Chase Blackburn
,
Football
,
Mark Herzlich
,
New York
,
New York Giants
,
NFL