New York Giants linebacker Mark Herzlich has not seen a lot of playing time this season. Despite a productive preseason and rumblings that he could take over at the starting middle linebacker position sooner rather than later, Herzlich has taken a backseat to teammate Chase Blackburn for the first seven games of 2012. Although Herzlich's lack of playing time is surprising, one would have a hard time finding a place for him within the Giants deep linebacker core. As the saying goes, don't fix something that's not broken.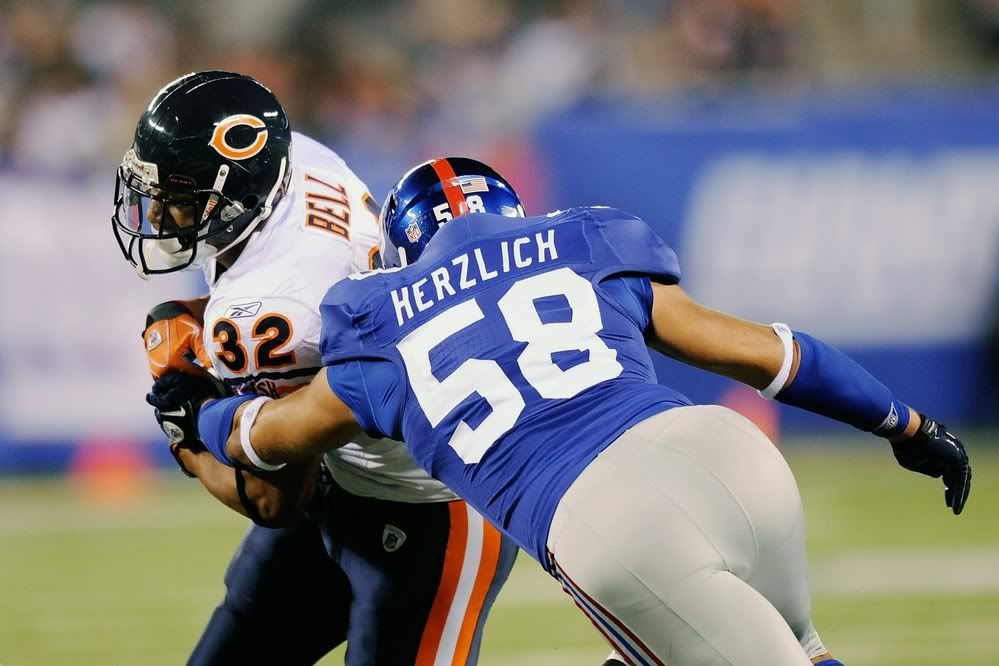 The New York Giants defense has improved over the last two weeks. After holding Alex Smith and the San Francisco 49ers offense to three points, Big Blue forced four turnovers against the Washington Redskins to eek out a 27-23 victory. Perhaps the most influential turnover of the game came in the final minute, as Giants middle linebacker Chase Blackburn stripped Santana Moss of the football and effectively ended the game. Despite some blown coverages at time this season, Blackburn has played better than expected so far through 2012.
Blackburn has 42 tackles through seven games this season, as well as two forced fumbles and an interception. While it would be hard to make the case that Herzlich should be seeing playing time over Blackburn at this point of the season, the Giants are clearly grooming Herzlich as the middle linebacker of the future. Head coach Tom Coughlin recently stated that he thinks Blackburn is good mentor to the second-year player out of Boston College.
"I think Mark will be a good middle backer going forward because he's learning from a good one," Coughlin said. Adding that Blackburn is "most difficult" to force out of the starting job. "His acumen is so sharp. He takes great pride in the communication part of it. Mark has learned a lot from Chase."
For the first time in a long time, the Giants have serious depth at the linebacker position. When Jacquian Williams missed last week's game, Keith Rivers filled in admirably. Michael Boley has played well, Mathias Kiwanuke is as versatile as ever, and Blackburn has been force against opposing rushing attacks. Herzlich was an undrafted free agent that was signed with the knowledge that he would be a project and he's still a work in progress at this point.
However, Mark Herzlich has shown great potential so far through his limited playing time. While he still has a lot to learn, the Giants know they have a potential stud middle linebacker of the future waiting in the wings behind Chase Blackburn. Hopefully Herzlich breaks out of his shell sooner rather than later, but Big Blue has a capable player in Blackburn holding down the fort until then.
Also…
Tags:
Alex Smith
,
Boston College
,
Chase Blackburn
,
Football
,
Jacquian Williams
,
Keith Rivers
,
Mark Herzlich
,
Michael Boley
,
New York
,
New York Giants
,
NFL
,
San Francisco
,
San Francisco 49ers
,
Tom Coughlin
,
Washington Redskins