Coming off of only three days rest, the New York Giants were missing several key components as they took on the Carolina Panthers Thursday night. Ahmad Bradshaw, Hakeem Nicks, Domenik Hixon and David Diehl didn't even travel with the team to North Carolina, and Michael Coe was ruled out prior to the game. As a result, the roster was shuffled and tremendous pressure was placed on the shoulders of several youngsters including Andre Brown, Ramses Barden and Jayron Hosley.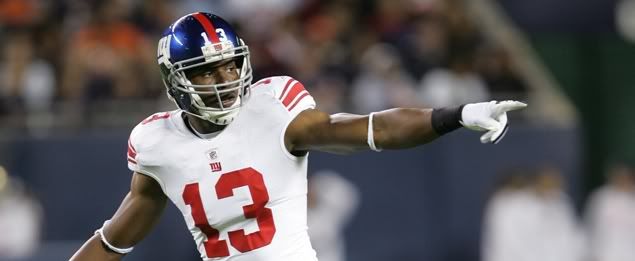 They did not disappoint.
In his first career start, Brown ran all over the Panthers, while Hosley came up with his first career interception and Barden had a game for the ages. When all was said and done, Big Blue improved to 2-1 with a dominating 36-7 victory over Cam Newton & Co.
Positives:
Andre Brown – As stated above, Brown had a hell of a game. He had been cut more times (8) than he had started NFL games, but for the second week in a row, took complete advantage of his opportunity. No matter when Bradshaw returns, Brown has earned himself a significant role on this team. However, he does need to work a bit on his pass protection.
Ramses Barden – In 2011, Barden had nine receptions for 94 yards. On Thursday night, replacing the injured Hakeem Nicks, he hauled in nine passes for 138 yards. He proved without a shadow of a doubt that if healthy, he has all the talent so many believed (and still believe) he has. We'll be seeing a lot more of him this season.
Jayron Hosley – Stepping up for the injured Michael Coe, Hosley started across from Webster and more than held his own. He also collected his first career interception. It's easy to see why he left college for the NFL, and why his teammates believe he's going to be a special player. The sky is the limit for this kid.
Jason Pierre-Paul – Many believed Cam Newton was the best athlete on the field tonight, but that wasn't the case. Per the usual, JPP dominated all night long and just missed on two near interception at the line of scrimmage. You run out of things to say that describe just how good JPP is.
Lawrence Tynes – Perfection. Hard to believe the Giants have an automatic kicker, but they do. He was five-for-five on field goals tonight and remains perfect on the season.
Eli Manning – Easy-E was throwing darts all night long. It certainly helped that he had ridiculous amounts of time, but he was precise and near perfect save for a few throws. And think about how good Eli is regardless of cast: Nicks, Cruz, Bennett, Barden, Hixon, Burress, Smith, Ballard, Beckum, Shockey, Toomer, Tyree, Manningham, Boss, Pascoe and so on. Elite.
Martellus Bennett – The Cowboys didn't want this guy? Really? Has a TD catch in each of his first three games.
Henry Hynoski – You can not overlook the tremendous job Hynoski did tonight. One of his best career performances.
Offensive line – Chris Snee & Co. gave Manning endless time to throw tonight, and did a fantastic job run blocking. It's hard to tell if they are vastly improved, or if the Panthers' defensive front is just that poor.
Special Teams – Great job all around, including on kickoff coverage. Special tip of the cap to Spencer Paysinger who forced and recovered a fumble.
Coaches – All around great gameplan and preparation.
Negatives:
Referees – Terrible job again. Twice they failed to call a false start on the Giants, but they also missed a blatant hold on Jacquian Williams that cost New York a sack. They also allowed Steve Smith and Corey Webster to go at it which led to a hand injury for C-Web. Yet, early in the fourth quarter, they called a personal foul on Prince Amukamara for a slight push after he was the recipient of a late hit. Reffin ain't easy.
Injuries – Keith Rivers left the game early in the first half after re-injuring his hamstring and would later be joined by Hosley (hamstring). Antrel Rolle also suffered a knee injury after colliding with a camera, while Brown and Webster (hand) were also shaken up during the game.
Announcers – Just. Shut. Up. It's a Giants-Panthers game … why are we talking about the San Francisco 49ers? Oh, and the name is Henry Hynoski not Hank Hynoski.
Mixed:
Osi Umenyiora – Osi blew up a run and had a key sack, but he struggled a bit with the option. The Panthers constantly went to his side, and he seemed to chase the wrong player most of the time. Hard to fault him, however. It's not something a team usually faces or prepares for.
Corey Webster – He was more aggressive, like he wanted to be, and had a solid game. Unfortunately, he was overly aggressive at times and was called for two pass interferences.
Also…
Andre Brown
,
Cam Newton
,
Carolina
,
Carolina Panthers
,
Football
,
Jayron Hosley
,
Michael Coe
,
New York
,
New York Giants
,
NFL
,
Ramses Barden
Related Videos
Returning Soon!!!!
No related posts.