The New York Giants have done a lot of apologizing to their fans lately. It started on Sunday when punter Steve Weatherford asked for forgiveness from fans after posting the video of Jason Pierre-Paul dumping his teammate Prince Amukamara into a cold-tub, and it continued on Monday as JPP himself apologized for the incident as well.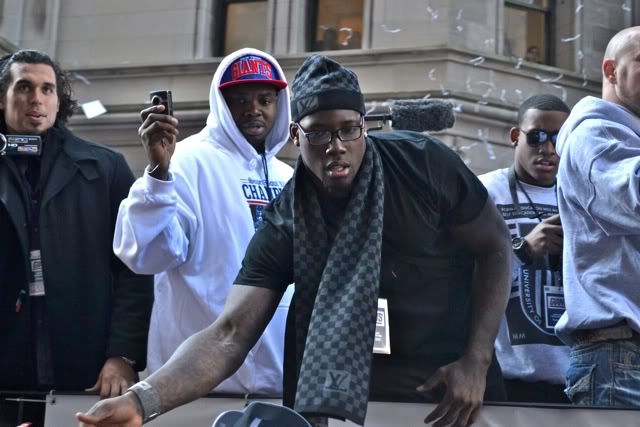 "For us guys, it was funny, but to the media and all the fans, they didn't find it funny. I apologize to my fans. It was just a joke that [went] bad," JPP said.
In an offseason that has seen a plethora of good news, this is perhaps the only black mark on a team that has otherwise conducted itself with professionalism on and off the gridiron. The Giants have always prided themselves on keeping their players out of trouble off the field, and the team has done a relatively impressive job in doing so.
However, head coach Tom Coughlin isn't so much worried that the incident itself will have a negative effect on the locker room, but that the publication of it could violate trust issues between players.
"First of all, it was wrong of Steve to do that because there's trust in the locker room," Coughlin said. "People have to be able to rely on each other. You don't think for one minute that would've happened if they said this was going to be public."
For many the issue with this incident was that it portrayed a team of veterans terrorizing a former first-round pick, who already has the weight of the world on his shoulders heading into this season. After coming off a lackluster, injury-plagued rookie year, Prince Amukamara is being relied upon to start at cornerback in 2012 in the (potential) absence of Terrell Thomas. Surely, being thrown in the cold-tub did nothing for his confidence.
However, Justin Tuck disagrees. The team's defensive captain says that players have been promoting a culture of hazing rookies in the NFL for years. But that, at least for Prince, it has not shaken his confidence. In fact, Tuck says the second-year player out of Nebraska has practiced well over the last two weeks.
"You got to have a certain confidence about yourself," Tuck, the defensive captain, said. "And I think that's an area Prince is definitely growing up in, and it just seems like he's had the best string of practices over the last two weeks I've seen him have and a lot of that has to do with his confidence level."
It's debatable on whether this incident is overblown, or if it really represents a problem within NFL locker rooms. However, for Big Blue, the experienced, professional leadership on the roster should be able to resolve any conflicts that may arise as a result. As the team prepares for it's third preseason game against the Chicago Bears, it may be a breath of fresh air to get back to focusing on football again.
Also…
Football
,
Jason Pierre-Paul
,
Justin Tuck
,
New York
,
New York Giants
,
NFL
,
Prince Amukamara
,
Steve Weatherford
,
Terrell Thomas
,
Tom Coughlin
Related Videos
Returning Soon!!!!
No related posts.