New York Giants defensive tackle Rocky Bernard will not make the trip down to Jacksonville tonight for the team's first preseason matchup. The 33-year old veteran out of Texas A&M is dealing with a lingering knee injury, which will now put him on a list of eleven Giants players that will miss Big Blue's opener.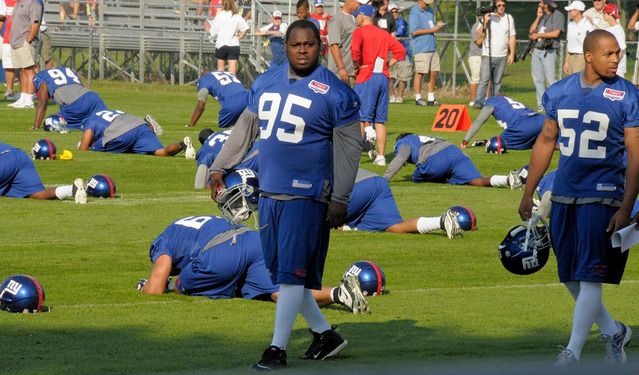 With the uncertainty regarding Chris Canty's health, Bernard is no longer in danger of not making the roster. He adds veteran depth to the team's talented defensive line. On Thursday, head coach Tom Coughlin talked about how the team is coping with the various injuries that have occurred so far throughout camp.
"They objective is always to win, but it's personnel, it's all about personnel. And you play them just exactly the way I've talked about it. We will not sacrifice that part of it and hopefully we're good enough and deep enough that the guys will get in the game and respond, enjoy themselves, play hard and give us a chance to really do some evaluating and figure out how people fit." Coughlin said.
In Bernard's absence, the team will most likely rely on Shaun Rogers and Marvin Austin in a starting role for the beginning of the game. Although Tom Coughlin says he would only like to play the starters for "15-18" plays", look for Austin to remain in the game for longer than that, as he has missed the last two seasons with various issues. After that, guys like Markus Kuhn and Dwanye Hendricks will most likely see a considerable amount of playing time.
Rocky Bernard is an eleven-year NFL veteran, so as long as he can get back on the field in a relatively short period of time, this will not have a big impact on the team. He has gained an extensive knowledge of the Giants' defense over the years, so it may be a blessing in disguise that some of the younger players will see some more playing time tonight.
Also…
Chris Canty
,
Football
,
Jacksonville
,
Markus Kuhn
,
Marvin Austin
,
New York
,
New York Giants
,
NFL
,
Rocky Bernard
,
Shaun Rogers
,
Tom Coughlin
Related Videos
Returning Soon!!!!
No related posts.