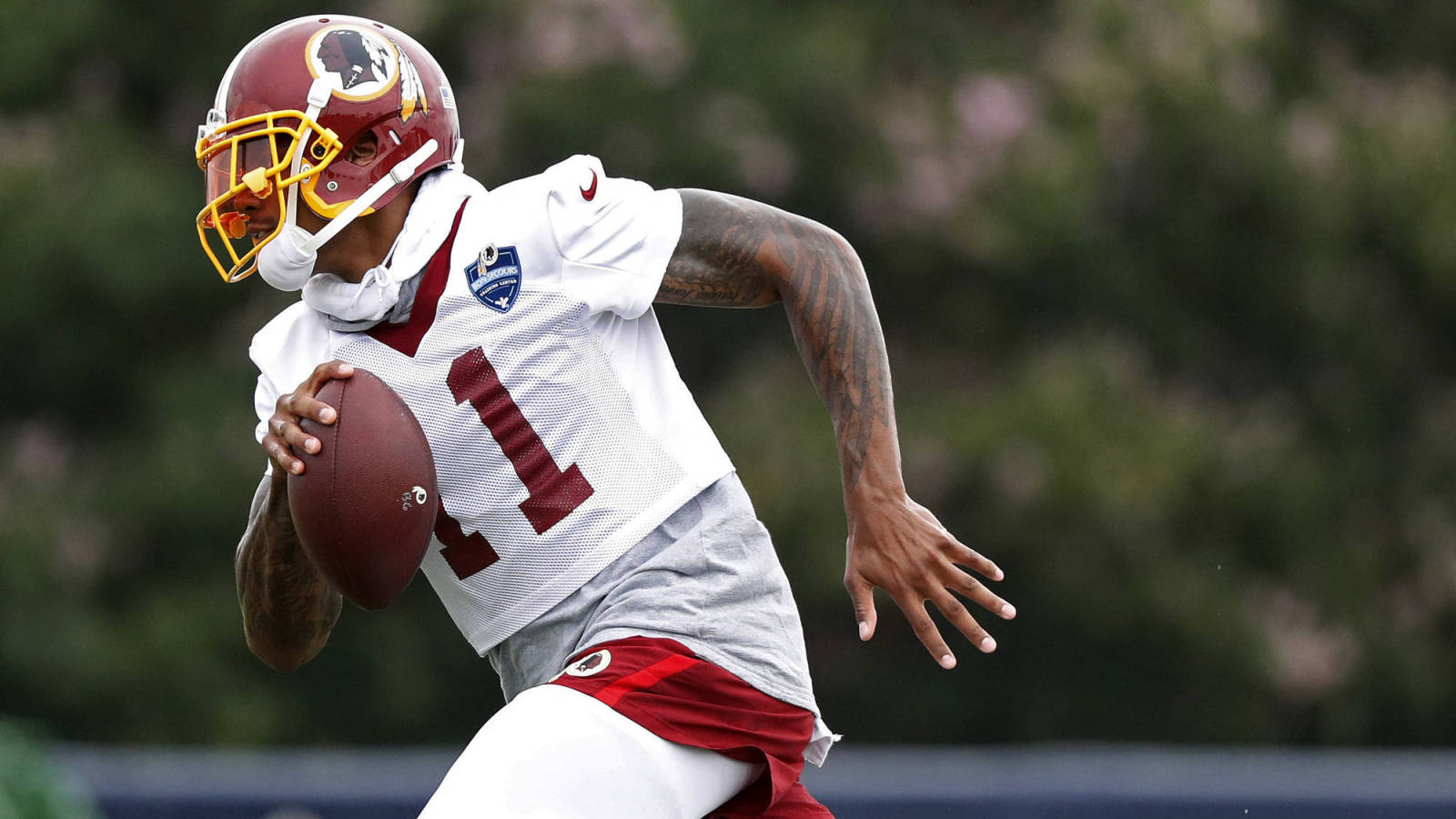 Pryor could be just what the doctor ordered in Washington. Geoff Burke-USA TODAY Sports
After months of waiting for the new NFL season to begin, football is back, and we're already almost to the end of training camp. Once the preseason kicks into gear, teams start reverting to their normal weekly schedules, signalling the shift.
For fans, this transition leads to the glorious arrival of the game they love. As much as we all say we hate watching preseason games, we watch them anyway. So who do we need to watch the most once the games begin? Some players have experienced nothing but positive developments ahead of the season, while others have not.
On that note, we're taking an extensive look around the league at the winners and losers from training camp thus far.
Winner: Terrelle Pryor shows he's not one-year wonder
After catching 77 passes for 1,007 yards and four touchdowns last year with Cleveland in his first as a full-time NFL receiver, Pryor inked a one-year deal with Washington. It was a prove-it contract worth just $6 million, which isn't a lot for a top receiver. Early on, Pryor has done nothing but prove he is just that. Between making jaw-dropping plays while blanketed in coverage and his head coach calling him one of the best in the league, this guy is clearly not disappointing his new team.
Loser: Christian Hackenberg struggling with the simplest things
Whether it's throwing balls at media members on the sidelines or failing to break the huddle correctly, Hackenberg's second season isn't going according to plan. A quarterback many analysts saw as a late-round pick at best last year, he was picked up by the New York Jets (who traded up to land him) in the second round. After keeping him from taking the field at all as a rookie, the Jets might be tempted to do the same thing this year based on what we're hearing from many who cover the team.
Winner: Dalvin Cook taking to the NFL like a duck takes to water
Cook spent a few years as one of the best running backs in college football. Now he's looking poised to become one of the best at the pro level. He's listed as the starter on the first depth chart of the season, which isn't that surprising since Latavius Murray has been on the PUP list until Monday. While it's certainly still very early, Cook has been doing everything he needs to do in order to become the full-time starter for the Minnesota Vikings in 2017.
Loser: Andrew Luck recovering from offseason surgery at a snail's pace
Luck underwent shoulder surgery in January for an injury he first sustained back in the early portion of the 2015 season. He's still not active for the Indianapolis Colts, and more alarming still he's yet to throw a football since then, either. That's not good news for him, or for the Colts, who are going absolutely nowhere without their star quarterback. Luck could very well miss the first six games of the season, at least, because starting out on the PUP list is very much in play.
Winner: Christian McCaffrey superlatives never stop
The Carolina Panthers spent some hefty draft capital to land this Stanford product, who was selected No. 8 overall. Based on early reviews, it's safe to say they're feeling very good about that investment. Fellow running back Jonathan Stewart said recently that there isn't a person in the league who can guard McCaffery one-on-one. Based on what we saw the past couple of years during Cardinal games in the Pac 12, that might be an accurate statement.
This kid is as talented as they come. He can run between the tackles with the best of them and is as explosive in the open field as anyone in the game.
Loser: Paxton Lynch struggling in Year 2
The Denver Broncos traded up into the No. 26 spot overall last year to draft Lynch out of Memphis. John Elway was practically giddy about landing him, and he made some pretty bold statements about how quickly Lynch would develop. That didn't happen last year, and it's not happened to this point in 2017, either. Lynch is still being given every opportunity to beat out Trevor Siemian, but so far there is still a consistency gap between the two quarterbacks that is too big to ignore.
Winner: Rico Gathers making strong case for big-time role with 'Boys
As a former Baylor basketball star, Gathers is making a very quick transition to the pro football game. He's been earning rave reviews during training camp. Then we all got to see what the fuss was about when he showed up huge during the Hall of Fame Game. Gathers caught three passes for 59 yards and a touchdown, looking very natural in the process. It was an enlightening display, and while we aren't ready to crown him as the next big thing, he's clearly a guy to keep an eye on going forward this preseason.
Loser: Ravens might not have a viable running game
Already a pretty glaring area of weakness heading into training camp, Baltimore's running game took a huge hit when Kenneth Dixon injured his knee. He required a full repair on his meniscus, meaning he's out for the season. This means Terrance West â?? a fourth-year vet with a 3.9-yard average on the ground â?? is the guy going forward. He's a capable receiver, but the Ravens have Danny Woodhead for that role.
On top of all that, the offensive line is in trouble. There's no sugarcoating the issues this team has on the ground going forward. This is even more amplified considering the potential trouble that could be on the horizon due to Joe Flacco's back injury.
Winner: Brandin Cooks fits New England's offense like a glove
Tell us if you've heard this before: The New England Patriots made a big move to acquire a game-changing playmaker who could transform the offense. Already drawing comparisons to the incredible Randy Moss, Cooks is doing big things for the Pats thus far as he builds rapport with Tom Brady. He absolutely blew reporters away on Monday during a joint practice against the Jacksonville Jaguars and …
Read Original Post at
http://www.yardbarker.com/nfl/articles/biggest_winners_and_losers_of_nfl_training_camp/s1_12680_24498442

Sports Media 101 searches and spiders for news it aggregates from across the web about your favorite sport or sports team. This article is originally posted at another site not affiliated with Sports Media 101. The portion of the article posted here is to provide a sample of the content available at the linked site. Please click the link to read the full article. Sports Media 101 does not claim any ownership to the content and all rights are retained by the original copyright owner.
Tags:
Aaron Rodgers
,
Anquan Boldin
,
Brandin Cooks
,
Chicago Bears
,
Colin Kaepernick
,
Dalvin Cook
,
Frank Gore
,
Green Bay Packers
,
Indianapolis Colts
,
Jacksonville Jaguars
,
Jay Cutler
,
Kansas City Chiefs
,
Leonard Fournette
,
Minnesota Vikings
,
New England Patriots
,
NFL
,
Ohio State Buckeyes
,
Reuben Foster
,
San Francisco 49ers
,
Terrelle Pryor
,
Tyreek Hill