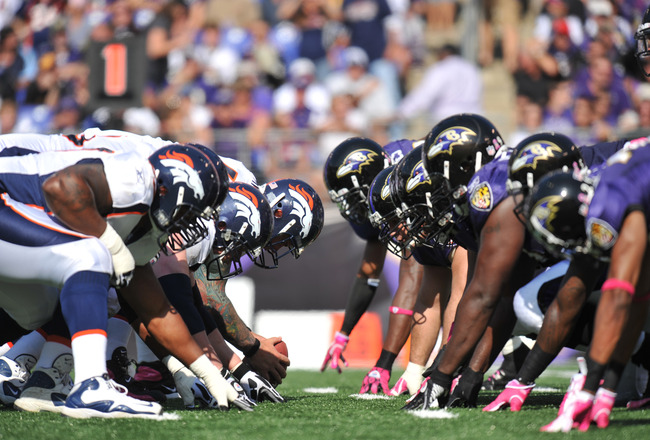 The Baltimore Ravens – 10 points underdogs entering this game – are tied with the Denver Broncos at 21-all entering halftime at Sports Authority Field at Mile High.
The Ravens have shown great resiliency in this game. First, they were quickly down 7-0 before the Broncos offense even touched the football as Broncos punt returner Trindon Holliday returned an 89-yard punt to paydirt early on in the first quarter. The Ravens were then down 21-14 with Denver threatening to go up by two possessions as they were in Baltimore territory, but Matt Prater proceeded to miss a 51-yard-kick to give the Ravens the ball at their own 41-yard-line. Joe Flacco then proceeded to drive the Ravens down the field with his second touchdown pass to Torrey Smith with 36 seconds remaining in the half to tie the game at 21.
The Broncos and Ravens look evenly matched through one half, something that many did not expect. The Broncos offense is moving the ball down the field efficiently as Manning's quarterback rating hovers around 98 entering the half. However, Flacco is having the game of his life as he has a quarterback rating over 133. The Broncos have had a few bad breaks in this game. The first was Tony Carter's pass interference penalty on Baltimore's second offensive drive on a third-and-eight that gave Baltimore the automatic first down. What followed was a long touchdown pass to Torrey Smith that saw Smith beat Champ Bailey for Baltimore's first touchdown of the game. The second bad break followed quickly after when Eric Decker was interfered with on a non-call on an intended pass towards his way which ended up being picked off by the Ravens for a touchdown which gave them a 14-7 lead midway through the first quarter.
The Broncos need to give safety help to Champ Bailey as Torrey Smith is having his way with him. The offense looks as good as they have all season long and are having no problem moving the ball even with Baltimore's defense finally at full strength. The true test lies in the defense stopping Baltimore's offense – the major step towards that is giving Bailey help. As great as Bailey is, this hasn't been his game thus far. The Broncos cannot risk any more deep plays to Smith. That will be the key to winning in the second half.
Tags:
Baltimore Ravens
,
Denver
,
Denver Broncos
,
Football
,
NFL