Following is part two of Sabres 101's series of the best Buffalo Sabres ever by jersey number. Click here to read part one of the series.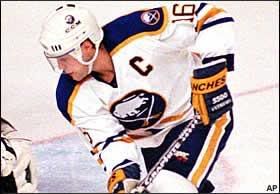 11: Gilbert Perreault. The original Sabre is the only Sabre ever to wear the number, as it's retired in his honor. The Hall of Famer scored 512 goals and 814 assists over the franchise's first 17 seasons. Buffalo's first-ever draft choice had career highs of 44 goals and 113 points in 1975-76. He also centered the French Connection.
12: Rick Vaive had his best years with the Toronto Maple Leafs, but he gave the Sabres three productive seasons toward the end of his career. The eight-time 30-goal scorer scored 29 times for Buffalo in 1989-90 and 25 times in 1990-91. Sixteen other Sabres have worn No. 12, but few others made any significant mark.
13: This unlucky number has been worn by an unlucky few Sabres players. Only Jiri Novotny, Vyacheslav Kozlov and Yuri Khymlev have worn the number for any significant amount of time. Khymlev gets the nod due mainly to slim pickings, although he did have two 20-goal seasons to his credit during four seasons in Buffalo. Jim Schoenfeld briefly wore No. 13, but he spent most of his time in No. 6 for Buffalo so he's excluded from this number.
14: Rene Robert was the third piece of the French Connection. He joined the team in its second season in 1971-72. He scored 40 goals twice and topped 100 points once, in 1974-75. Ten other Sabres wore No. 14 before it was retired for Robert in 1995.
15: No. 15 seems to be used for dead wood on the Sabres' roster. Nineteen players have worn it, but a best one honestly might be impossible pick. When you have to choose between Randy Wood, Dixon Ward, Adam Creighton and Dainius Zubrus, it's probably a good idea to abstain.
16: Eleven Sabres wore No. 16 prior to 1991, but no one will ever wear it again. Pat LaFontaine arrived in Buffalo for the 1991-92 season and instantly made the team an offensive juggernaut. He paired with Alexander Mogilny and Dave Andreychuk to create one of the greatest lines in the game. He scored at least 40 goals three times in six seasons in Buffalo, registering 53 tallies and a whopping 148 points in 1992-93. He's in the Hockey Hall of Fame and has also has his number retired. he's also the answer to a strange trivia question, as he's the only player to be traded twice without having to change his license plates (he went from the New York Islanders to the Sabres to the New York Rangers).
17: With respect to Rick Dudley, Mike Foligno takes the honor here. Foligno played his first three years with the Detroit Red Wings but made his biggest mark in Buffalo. Over nine seasons with the Sabres, he reached at least 20 goals eight times and served as captain, gaining fame among Sabres fans with his trademark jump after goals. His son, Marcus, plays for the Sabres now, and he hinted he may switch numbers from 82 to 17 in tribute to his father.
18: Danny Gare epitomized everything Buffalo fans love to see from their sports stars. He played with tenacity and grit while keeping a scorer's touch, twice topping the 50-goal mark in 7 1/2 seasons in Buffalo. He served as captain even with Perreault on the team from 1977-81 and led the league in 1979-80 with 56 goals. His number was retired in 2005. Ten other Sabres have worn No. 18.
19: Cody Hodgson might some day top this list, but for now the honor goes to Fred Stanfield, who barely stands out from the 20 other Sabres to wear No. 19. he enjoyed his greatest success with the Boston Bruins, scoring at least 20 goals six times. He spent the final 3 1/2 years of his NHL career with the Sabres, scoring 12 goals in 32 games for the 1974-75 team that went to the Stanley Cup finals. He now owns a Buffalo-based office furniture store.
Buffalo
,
Buffalo Sabres
,
Hockey
,
NHL
Related Videos
Returning Soon!!!!
No related posts.