As Americans pause on Memorial Day to honor those who fought and died for the nation, Bills 101 thought it right to profile the only NFL player to be killed in the Vietnam War, former Buffalo Bill James Robert Kalsu.
Kalsu, who was born April 13, 1945 in Oklahoma City, was drafted in the eighth round in 1968 out of the University of Oklahoma. He ended up starting at guard for the Bills that season, earning the team's rookie of the year honor.
After his rookie season, he enlisted in the Army to fulfill an ROTC requirement from college and was sent to Vietnam Nov. 15, 1969, as a first lieutenant. He was stationed at Firebase Ripcord near Vietnam's Ashua Valley.
On July 21, 1970, the base received word that a damaged copter would be coming in for an emergency landing, and that enemy North Vietnamese troops would be in close pursuit. He left the bunker to warn the solders serving under him when a mortar shell went off 15 feet from him, killing him instantly.
He left behind a wife and two kids – one of whom was born just days after Kalsu's death. A base in Iraq is named after him, and he is on the Buffalo Bills Wall of Fame.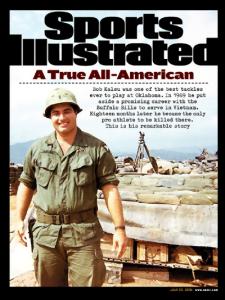 Tags:
Buffalo
,
Buffalo Bills
,
Football
,
NFL