Much as been made of Jeff Green's slow start this year for the Boston Celtics. Much has also been made of his breakout performance Wednesday night against the Utah Jazz. It should surprise no one that Green spent a while trending on Twitter last night. After all when you throw down a dunk like this people tend to take notice. However, as they say, things are never as good or as bad as they seem. There was nothing drastically different about what Green did last night. He was more aggressive, but apart from that highlight reel dunk his 16 points came from just playing his game. But there was something different about the way the Celtics used him last night which is a hugely positive sign for Boston going forward.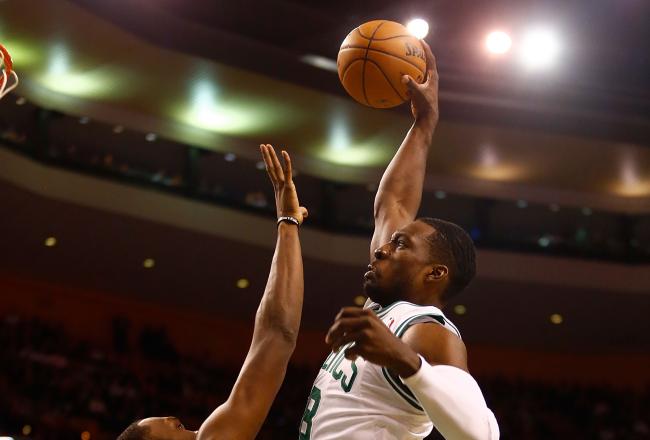 One of the top responsibilities for a coach in any team sport is putting players in a position to succeed. This is one area that Celtics coach Doc Rivers has struggled with when it comes to Green. The guys talent is undeniable, however Doc has really had a tough time figuring out how best to use him. There has been a lot of talk about Green struggling to score this year. But a lot of that comes back to the Celtics not finding him in a position to score. When he has had offensive looks this year he has often had to face up beyond the three point line and take his man off the dribble. Green is a natural quick forward so he is capable of doing this, however it isn't really his forte and as a result he has looked a little tentative on the offensive end thus far.
Now certainly Green does deserve some of the blame for his slow start. There are times when it looks like no one in the league can keep him away from the hoop but he spends games drifting rather than attacking. However one has to remember that Green is still adjusting to life as a bench player. It's easy for Leandro Barbosa and Jason Terry to come off the bench and make an impact at this stage in their careers because they have been doing it for for ages. Green on the other hand is still very new to it. He has been a starter basically all of his basketball life. He started in college. He started in Oklahoma City. It wasn't until he came to Boston that he began coming off the bench – a less than 50 game orientation period. Terry needed some time to adjust to the bench. Green does too, but the Celtics need to help him. They did that on Wednesday.
Green's entire demeanor changes when he gets a shot to go down. However that hasn't been happening all that often this year because the Celtics have done a poor job of putting him in position to score. On Wednesday however they actually got him some post-up opportunities early. He got a few to go down and shifted into attack mode for the rest of the night, leading to that monster dunk in the fourth quarter. Boston had previously been asking Green to size up the defense and create off the dribble, forcing him to either dribble through traffic or settle for a long jumper. Neither of these are really Green's game. On Wednesday however they got him a few post looks early and he was attacking for the rest of the night. That's what needs to keep happening. Green is still new to the bench so he isn't going to be the guy who comes in and immediately puts his stamp on a game. He may turn into that after spending more time as a reserve, but it is going take just that – time. Until then the Celtics need to do a better job of getting him involved. The best way to do that is finding him in good situations early in games.
On Wednesday night Green's offense came either from the post or from getting the ball kicked to him on the perimeter, allowing him to drive one on one. That is Green's game – posting or slashing. When he is asked to work a two man game and size things up he starts thinking too much and gets tentative. The Celtics want him to attack all the time. Few in the league can finish like he can but the C's need to put him in position to do that. He needs to wear the responsibility himself, but he also needs to be put in good situations. Wednesday was a step in the right direction. They still need to do a better job of finding him in transition, which is where he is really dangerous, but Wednesday night was a start.
Tags:
Basketball
,
Boston
,
Boston Celtics
,
Jeff Green
,
NBA