Story
Kevin Garnett scored 20 points and pulled down 13 rebounds, Rajon Rondo added 18 points and 14 assists, and the Boston Celtics beat the Washington Wizards in overtime 100-94. Bradley Beal and Kevin Seraphin each scored 16 to lead the Wizards who rallied from an 11 point fourth quarter deficit to force overtime. However the Wizards only managed six points in overtime while Brandon Bass managed five all by himself. The Celtics move to 2-2 on the season with their sixth straight win over Washington. The game really should not have gone to overtime, as Boston had a number of opportunities to finish the game off earlier. A lot of good and a lot of bad came out of it, but at the end of the night a win is a win.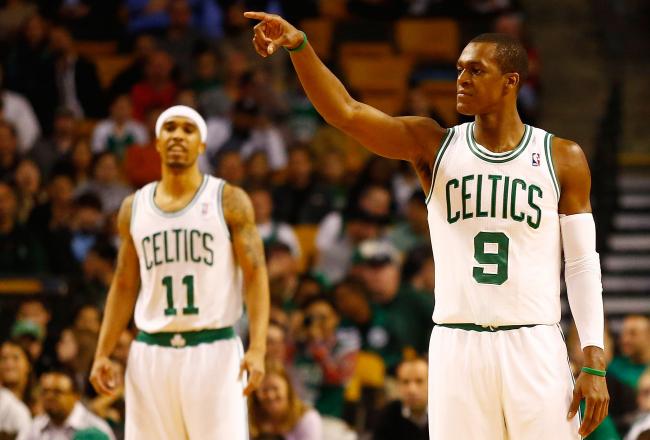 Turning Point I
The biggest problem the Celtics have had thus far this season has been sustaining momentum. Their offense and defense have both been so inconsistent that the C's really haven't been able to put together any runs. Tonight they finally put one together. Washington was up by five entering the second half and maintained a slim lead for much of the third quarter. But with three minutes remaining Chris Wilcox checked into the game and immediately chipped in six points and a blocked shot. Wilcox's energy really woke Boston up and the Celtics, running with a lineup of Rondo, Jason Terry, Jeff Green, Bass, and Wilcox, ran off a 12-2 run to enter the fourth quarter up eight.
Turning Point II
Paul Pierce converted a three point play to push Boston's lead to 11 early in the fourth quarter. Then the Celtics just started trading hoops with Washington. Boston's offense struggled for much of the night but their defense had been top notch. Unfortunately they switched off the second they went up double digits. Jason Terry kept them ahead for a while, hitting a number of tough jumpers, but the Celtics started giving up too many easy shots and Washington gradually crawled back into the game. The C's really started playing hero ball the second Washington got back into it. Part of it was certainly that Rondo was on the bench at the time with four fouls, but the Celtics really made a lot of very poor decisions late, allowing Washington to force overtime in a game they should have lost by double digits.
Turning Point III
Martell Webster hit a very difficult running jump shot to tie it at 92 with 2:36 remaining in overtime. They didn't score again until Bradley Beal dropped in finger role at the end of overtime after the result had been decided. The Celtics really sleep walked through a lot of this game, and the lack of intensity that keeps cropping up has been disturbing even for couch Doc Rivers. They stepped the intensity, particularly on defense, up a notch in overtime. It isn't as simple as "they just need to play harder" but the C's are leaving some intensity on the table. They showed how suffocating their defense can be in overtime. The effort level needs to be around there all the time.
Rotations Coming Together, Bench Waking Up
At the end of the night, amid a lot of the negativity about the C's needing OT to beat Washington, Tommy Heinsohn said "I think they finally had the right guys on the floor at the right time." The Celtics have been having a tough time getting going this year. The new guys are working out how to fit in, Rivers is figuring out his rotations, and the bench is still trying to find it's way. Tonight C's fans finally got to see what this team should really look like. Jared Sullinger and Courtney Lee started. Jason Terry and Brandon Bass finished. Jeff Green and Leandro Barbosa filled in the gaps. The guys are still working out how to play together, and there was a lot of bad mixed in with the good, but things did seem to come together late for Boston on Wednesday night.
JET Incoming
People have waiting for Boston's revamped bench to contribute. In the first three games they have been outscored and the bench's performances really have not been pretty. As said earlier the C's reserves are really easing their way into things. Well tonight Jason Terry had a had enough easing and decided to just take the lead. Terry finished with 16 points, including a number of big jump shots in the fourth quarter, and also played excellent ball denial defense down the stretch. The C's brought Terry in to take command of their second unit and make big shots late. He did that Wednesday night. He's still missing some shots that he normally makes, but the JET engines are revving up.
Power Forward Spot Bears Watching
For the second straight game Jared Sullinger started and was very strong early, playing strong D and grabbing a couple tough rebounds. However for the second straight game Sullinger didn't do much after his strong start. After a strong first quarter most of the minutes the rest of the way went to Bass. Of the two Bass has clearly been the more impressive player, not only knocking down his midrange jumpers but also improving his rebounding by leaps and bounds. As long as the C's keep winning Sullinger will probably keep starting, however Bass will keep finishing and as long as his play is so strong it will be tough to keep him out of the starting lineup.
What It Means
The Celtics needed overtime to beat the Washington Wizards. The critics are going to have a field day with that, but there were positive signs. The Wizards aren't great, but they are an NBA team and they played really hard tonight. The Celtics came out on top and a win is a win.
What's Next
The Celtics look to get over .500 Friday, November 10th at 7:30 p.m. when the Philadelphia 76ers visit TD Garden.
Tags:
Basketball
,
Boston
,
Boston Celtics
,
NBA