Story
Boston Celtic veteran reserve Leandro Barbosa exploded off the bench in the fourth quarter of Boston's opening night loss to the Miami Heat on Tuesday. After a short stint on the court in the first half Barbosa had watched the rest of the game from the bench. But with both Jeff Green and Jason Terry struggling in Miami, and with the Celtics already down by double digits, Celtic coach Doc Rivers turned to Barbosa in the hopes that the former Sixth Man of the Year could make something happen for Boston in the fourth quarter. The man known as the "Brazilian Blur" responded by pouring in 16 fourth quarter points, fueling a Boston run that brought them all the way back to with four within just over two minutes remaining after trailing by as much as 19. Boston couldn't complete the comeback, stumbling in the final two minutes and eventually losing 120-107. However Barbosa's impact now has people wondering what to expect from the veteran combo guard going forward.
What it Means -
For Now, More Quality Depth
When the Celtics acquired Barbosa late in training camp few people thought of it as much more than an insurance policy. The Celtics didn't have a second pure point guard behind Rajon Rondo, and while Jason Terry is perfectly capable of filling that role the addition of Barbosa gave them another man who could handle the ball and initiate the offense. Few thought Barbosa would play much even before Avery Bradley returned from shoulder surgery, and no one foresaw a night like this. Yet, as nice at it was to get such a spark from the Brazilian Olympian, the really good news is that Barbosa's ability gives Boston even more quality depth. Green and Terry both struggled on opening night so Rivers turned to Barbosa and he responded. It will likely go the other way in future nights. Every player is bound to have off games. Luckily the Celtics have so much depth that Rivers can simply keep going down his bench until he finds the guy who is ready to go that night. At the end of the day Barbosa is another professional who can come off the bench cold and perform. He adds speed and shooting, something no team can have enough of. Predicting what kind of impact he will have on a game to game basis is very difficult, but the Celtics are better with him on the roster.
How Was he Still Available?
The realization that the Celtics are clearly better with Barbosa on board begs the question "how on Earth was this guy still available?" Anyone who watched that fourth quarter knows that Barbosa can obviously still play, yet the Celtics acquired him on October 18th, less than two weeks before the start of the season. He has been one of the best bench scorers in the league over the past 10 years and is one of those rare players who relishes changing games by coming off the bench a-la Jason Terry. There are tons of teams who could have used him. Yet the Celtics were able to bring him in on a minimum deal less than two weeks before the start of the season. Seriously, how did that happen? The guy has won the NBA Sixth Man award and averaged better than 12 points in his 10 year career. Did nobody want this guy?
Intensity
Barbosa has never been called a great defender. His personal defensive statistics might be skewed a bit due to spending most of his career with the Pheonix Suns, who were famous for their defensive ineptitude, but whatever the reason defense has never been his strong suite so when Rivers threw him out there to start the fourth quarter no one thought it was for defensive purposes. However Barbosa overplaying Dwyane Wade and Mario Chalmers did seem to finally inject some defensive intensity into the lackluster Celtics. Again, Barbosa is not a guy known for his defense, but he is fast, moves his feet well, and works hard. At the end of the day that is 75 percent of defense anyway. Rivers noted before the game that Barbosa's defensive intensity had already helped the Celtics in practice. It helped them in a game last night. The Celtics shouldn't need any extra edge to get their defense locked in, and their complete lack of focus on the defensive end in the first three quarters on Tuesday was something that cannot continue. But on nights when the Celtics do need an extra edge Barbosa may be able to provide it.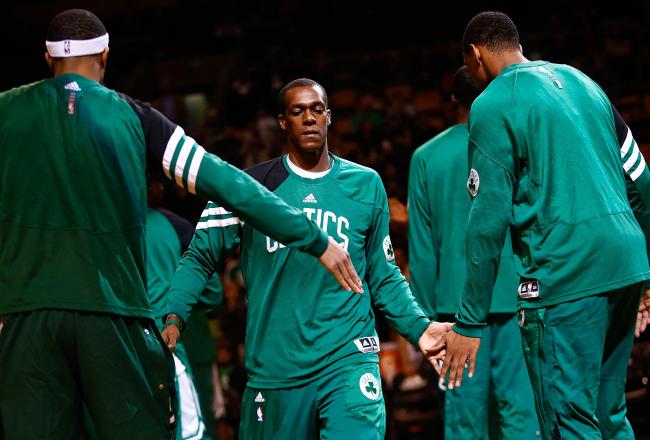 Rotation Still Fluid
The Celtics rotation still seems very much open to competition. It's hard to see where Barbosa fits in after Bradley returns, but if he continues to play as well as he did on Tuesday Rivers will find a role for him. The Celtics will go with a bevy of different lineups this year. Rivers went super small on Tuesday and that was the lineup that got them back into it. On future nights against bigger teams (e.g. Philadelphia, Indiana) Barbosa will sit and Jason Collins or Darko Millicic will have bigger roles. It is this flexibility that makes Boston so dangerous. Not every player will have a role every night, but having so many pieces at his disposal has got to be one of the things that Rivers likes most about this team. Barbosa is a big part of that and he makes the Celtics that much more dangerous.
Tags:
Basketball
,
Boston
,
Boston Celtics
,
Leandro Barbosa
,
NBA