The Boston Celtics will open the 2012-2013 NBA season tonight at 8 p.m. when they take on the Miami Heat at Miami's American Airlines Arena. In the grand scheme of things the game does not mean much. It is game one of an 82 game season. However opening night is often a good indicator of how a matchup will play out down the road. When teams meet in the regular season fans are never sure how much stock to place on the result. One team might be on the second night of a back to back. One team might have injuries. One team might just have a really bad game. Teams, or at least players, do take nights off over the course of the year. Sometimes players coast, but everyone wants to win on opening night. It's the closest thing to playoff intensity that the regular season has to offer. Every team wants to come out and show that they are going to be a force this year. The game itself doesn't matter all that much, but this the first of their four regular season meetings will give fans a good idea of how these two teams matchup heading into this year, so there are a number of things to watch for.
Can Miami Slow Down Rondo
Miami hasn't had much trouble with the rest of the league since Lebron James came to South Beach. However, while they have bested the Celtics in the playoffs the past two years, if there is one team out there that has Miami's number it's Boston, and that is primarily because the Heat have never found a way to slow down Rajon Rondo. The Heat beat Boston in 2011 in large part because Rondo blew out his elbow. In 2012 they never found an answer for him, but the rest of the squad was so depleted by injury that Boston wilted in Game Seven despite Rondo's efforts. Rondo has historically owned the Heat. He killed them in the postseason and took a team that wasn't half as deep as Miami's to within one quarter of beating them. Celtic fans have to assume that if he had just a little more support around him last year it would have been Boston, not Miami, facing Oklahoma City in the finals. Some of the best games of Rondo's career have come against Miami, and until they find a way to slow him down coach Erik Spoelstra is in for a bunch more sleepless nights.
Courtney Lee's Defense
Newly acquired shooting guard Courtney Lee is holding down Boston's starting shooting guard position at present. However it is unclear whether he will continue starting once the incumbent Avery Bradley returns from shoulder surgery. A lot of this depends on defense. One of the reasons the Celtics like Bradley with the starting five is his defense, particularly his defense on Dwyane Wade. When Bradley was healthy Boston felt confident that he could actually guard Wade one on one, allowing them to focus even more of their attention on stopping James. However when Bradley had to have surgery a gimpy Ray Allen had to guard the Miami star. This was a really tall order for Ray, who isn't a great defender at the best of times, and was further hampered by bone spurs in his ankles. As a result Boston had no choice but to send more double teams at Wade. They still did a decent job slowing him down, but one has to feel that if Bradley were healthy the Heat would have had a much harder time on offense. Like Bradley Lee also has the ability to be an excellent defender. He has already improved dramitically in his short time in Boston. If he can provide a similar level of defensive excellence he has a better shot of holding on to the starting gig once Bradley returns. Otherwise Bradley's stellar perimeter D will have him back with the starters.
Can Jeff Green Guard Lebron James?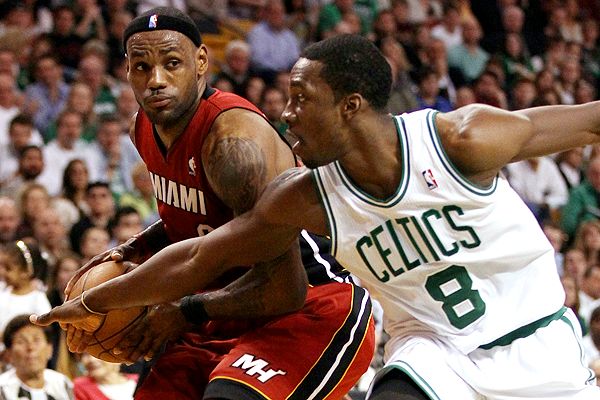 One of the reasons Celtic GM Danny Ainge pulled the trigger on the Kendrick Perkins-Jeff Green deal back in 2011 was because he saw the Miami Heat and New York Knicks as bigger threats than the Orlando Magic. That is to say he thought that Perkins' ability to guard Dwight Howard was not as valuable as Green's ability to guard Lebron James and Carmelo Anthony. The idea was, particularly after Marquis Daniels went down with a spinal injury, that the Celtics really needed another wing player who could guard guys like James and Anthony the way James Posey did for the 2008 championship team. The plan didn't really work out. The team was emotionally crushed by Perkins' departure making it extremely difficult for Green to find his feet with the squad. He had some moments of quality defense in the playoffs against Lebron and 'Melo, but never with any kind of consistency. Then of course Green was forced to miss the entire 2012 season due to heart surgery. The Celtics tried to get by with Mickael Pietrus, who despite committing some silly fouls also had his moments against Lebron. However he was battling a knee injury and thus didn't have any sustained success either. Going into this year with a healthy Green the Celtics finally feel like they actually have a guy who can guard Lebron one on one. Anyone who watched the preseason knows what he can do on the offensive end. Now he needs to prove his worth on the defensive side of the ball. He has the ability, but statistics indicate that he actually hasn't been a great defender over the course of his career. This is probably due to the fact that he has spent so much time guarding fours when he is really a three, but whatever the reason Green has a lot to prove on defense. If he can slow Lebron down then the Celtics have three people in Green, Paul Pierce, and Brandon Bass, that they can throw at the reigning MVP. None of them will stop him, but if they can keep him on the perimeter and force him into some low percentage shots the Celtics will feel good about their chances against Miami. However if James abuses Green that places more burden on Pierce and Bass, and the Celtics are back to square one.
Who Starts at the Four?
For much of the preseason rookie Jared Sullinger started at the power forward position for Boston. This came as quite a surprise since Celtic coach Doc Rives has been loath to even play rookies in previous years let alone start them. It was even more surprising given that the C's had just handed Bass, the incumbent starter, a three year contract extension in the offseason. Initially most fans simply thought that Doc was experimenting. Now it seems like there is actually a real possibility that Sullinger opens the season in the starting unit, but it is still very much an unknown. Both Sullinger and Bass have had good preseasons which makes the decision particularly difficult. Bass is the better defender and one of the best midrange shooters in all of basketball, a big deal in Boston considering that Rondo can get him that shot whenever he feels like it. However Sullinger is the superior rebounder, an area of extreme weakness for the C's since Perkins' departure. In Celtics101's view this should tip the scale in Sullinger's favor. Bass has the ability at 6'8" and 260 lbs to be an excellent rebounder, but Sullinger already is. The Celtics don't have time to wait for Bass to improve his rebounding. If he can become a 10 plus boards per game guy overnight then he should start. He actually could do it. He has had plenty 10 plus nights before. All he needs to do is make it his focus area. However If it doesn't happen then the C's are better of with Sullinger. They need a guy who can control the boards and Sullinger has that inate ability. Bass' defense is solid and his shooting is all well and good, but the C's need rebounding more than anything.
What Happens With Ray?
This is a loaded question. Will Ray and Rondo shake hands before the game? Will KG even acknowledge his former BFF? Will Ray have something to say to Doc after Doc chucked dirt on him on his way out of town? What happens when the game gets going? Will there be fireworks? These are all legitimate questions and reasons to tune in to TNT at 8 p.m. However bigger question is "how will the Heat use Ray?" Part of the reason why Ray left Boston was because he wasn't happy with his role on the team. Has Miami really found a better role for him or did Pat Riley just pull the wool over his eyes? Is Ray just going to be another one of Miami's seemingly endless number of guys who stand in the corner shooting threes? Or is he actually going to get significant minutes with the starters and the chance to handle the ball? Is he going to start? One of the reasons we at Celtics101 were upset that Ray left for Miami was because the idea of a Chalmers-Allen-Wade-James-Bosh starting five was absolutely terrifying. It seems unlikely that the Heat would go that way, but this is the same team that started Shane Battier at power forward during last years playoffs, so they have done stranger things before. We at Celtics101 have no idea how the Heat plan on using Ray. We will just have to watch to find out.
Tags:
Basketball
,
Boston
,
Boston Celtics
,
NBA